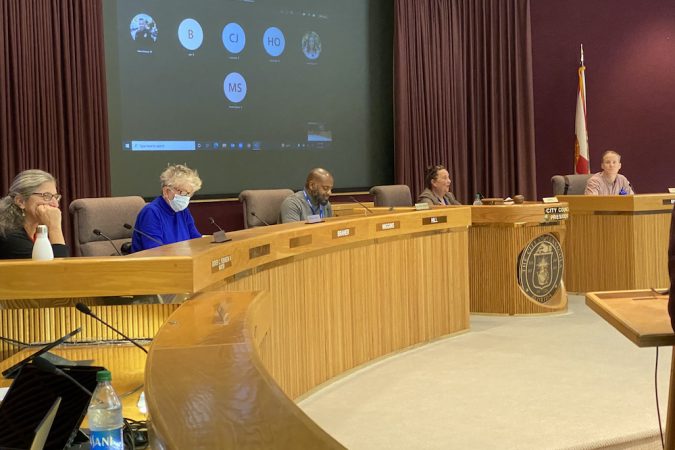 By Jeremy Morrison
Appearing strategic in its approach to address the issue of homelessness, the Pensacola City Council is funding initiatives with a near-singular mission: securing shelter for those currently living without.
"Heads in Beds, period," said Councilwoman Jennifer Brahier, bluntly, during a special meeting Wednesday night. "That doesn't mean we don't have a lot of things to do, but right now, we have an immediate crisis."
On the table was $2,575,000 in federal American Rescue Plan Act funding that Mayor Grover Robinson has earmarked for homeless initiatives. City council members decided Wednesday to commit more than half of that funding, primarily to projects geared towards increasing the city's available shelter beds, and held the rest back to use toward future efforts surrounding this issue.
"It stays in this pot for us to use for homelessness in the future," Brahier clarified.
The council provided varying amounts of funding to Bright Bridge Ministries, Lakeview Center, Pensacola Dream Center, Re-Entry Alliance of Pensacola (REAP) and the Children's Home Society.
REAP received the largest allotment—$400,000 for a holistic center located on North Palafox. The center will provide 29 beds for families with children, plus another 10 so-called 'respite' beds, along with a site for a collective of service providers.
Pensacola Dream Center got $300,000 for its Canopy of Hope project, which provides seven short-term beds. Bright Bridge got $281,400 for its operation of a shelter with 30 beds. The council also set aside $180,000 to pay for motel rooms for homeless individuals in the case of an emergency. The set-aside was in lieu of an earlier consideration to fund a campground-style facility.
Lakeview and Children's Home Society represent the only initiatives not connected to directly sheltering individuals. The council awarded $300,000 to Lakeview to fund a mobile response unit but stipulated it must be used within city limits. The Children's Home Society, which serves homeless youth, received its full ask of $135,254 because the agency amounts to what Councilman Jared Moore described as "a low risk" with a "multi-tiered value."
Council members were in general agreement over most of these funding designations, though Councilwoman Sherri Myers did express some concerns about such a shelter-centric approach. The council didn't fund initiatives put forth by the task force that focused on less tangible elements associated with the issue of homelessness, such as mental health services or employment training.
"Just saying, 'oh, we're just going to put people in beds is not enough. It's not enough," Myers said.
Notably not a unifying lift from city council was the holistic center slated for 2200 N Palafox. Located in the proximity of a homeless camp that has developed beneath a stretch of an interstate overpass near downtown, the center was the subject of numerous comments from residents living in surrounding neighborhoods, who urged council members to nix the campsite and cited safety concerns and the property's proximity to a nearby school.
Councilwoman Teniade Broughton said she understood residents' concerns and also contended that historically Black neighborhoods tend to be "the dumping ground of our social ills." The councilwoman asked that the city to "pause" in its consideration of this project.
"I rather it used as a last resort, or not even last resort. I won't even say last resort—let's explore some other options," Broughton said.
Councilwoman Brahier, who originally laid out this bed-centric approach adopted by council, stressed the value of the holistic center—"I just want to make sure we understand we're 39 beds short"—and contended the project shouldn't be scrapped due to neighborhood concerns.
"I'm not sure that's a reasonable thing to do," Brahier said.
While Broughton was joined by Councilman Delarian Wiggins and Council President Ann Hill in her dissent, the holistic center landed its partial funding request on a 4-3 vote.
With these funding allocations, the city will be investing nearly $1.6 million of ARPA funds toward addressing the issue of homelessness. Still on the table are about another million. Mayor Robinson will be requesting about half of that for use with the organization LOTUS, which works with private interests to secure long-term rentals for individuals transitioning out of homelessness.
Is Time Up for Overpass Campout?
In the background of this municipal discussion concerning funding for homeless initiatives is the growing encampment underneath the interstate. City officials have applied an eviction moratorium to the public property in part due to the camp forms during the pandemic, but also because any eviction would likely trigger a lawsuit unless the city can accommodate the evicted individuals with shelter space in the area.
During Wednesday's meeting, the city attorney noted that the property is covered by the moratorium until Dec. 22, after which the city could post a notice to evict within five days. Neighborhood Administrator Lawrence Powell clarified that such notice would likely come in January when the Florida Department of Transportation begins work on a long-planned greenway project in the area.
Councilman Wiggins stressed that the city would need to give more time that then minimum required for people to vacate the property.
"We have to do this right, five days is not enough," Wiggins said. "These are people's homes."
Mike Kimbrel, executive director of the Alfred Washburn Center and longtime local homeless advocate, warned the council that unless the city was truly able to point to available shelter space for evicted camper—something these funding designations are designed to deliver—the move would lead to inevitable lawsuits anyway.
"We do not need to be in the national news again over that kind of nonsense," Kimbrel said.