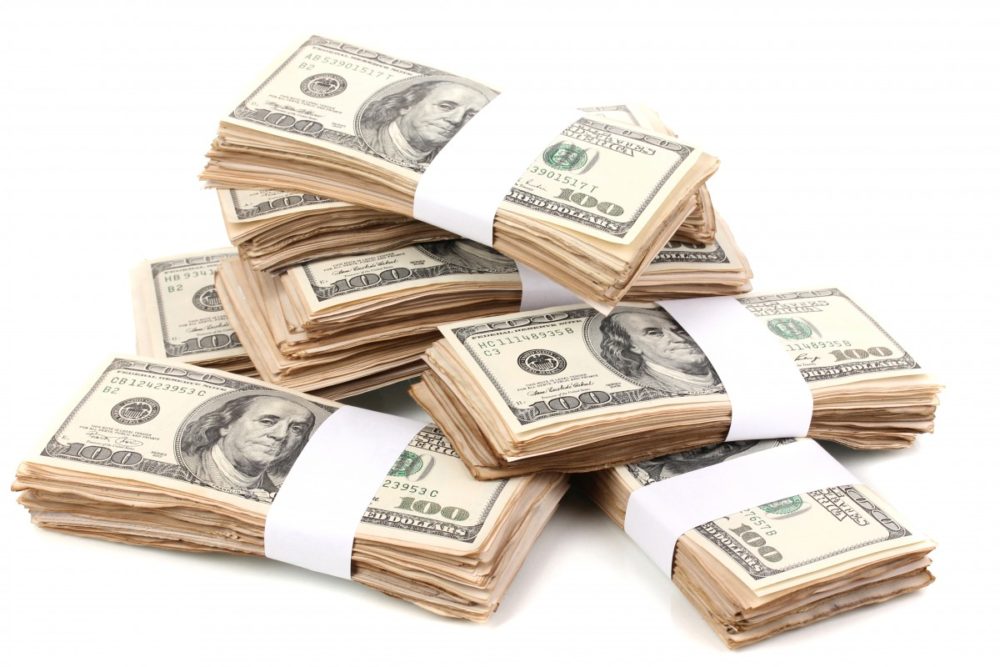 The August 28 primary is nine weeks away. Escambia County Commission candidates have spent over $137,000 as of May 31 on their campaigns. By far, the biggest spender is Alan McMillan with $57,380 in the District 2 race.  Robert Bender has spent $22,411 in the District 4, He is followed by District 2 Commissioner Doug Underhill with $21,055 and District 4 challenger Kendrick Doidge with $19,156.
McMillan has paid Barcelo & Co. $3,000 for polling, Birdwell Agency $20,059 for campaign strategy and messaging , and Ronan Kirwin $10,800 for social media. Underhill had Gravis do his polling for $750, and Social Icon was paid $8,050 to manage his campaign and develop his website.
Bender has paid Strategic Image Management $7,258 for strategic consulting and Emily Mitchel $600 for his social media. Doidge has paid  Front Line Strategies $8,000 for strategy planning and Duncan McCall Advertising $3,000 to handle his marketing. Bill Fetke, who is in the District 4 race, has paid AJD Consultants $2,057 to manage his campaign.
The eight candidates, who have filed campaign reports, have spent $25,905 on signs and $15,215 on fundraisers and campaign staff meetings
| | | | |
| --- | --- | --- | --- |
| District 2 | Monetary Contribution | In Kind | Expenditures |
| Alan McMillan (REP) | $84,042.01 | $8,375.00 | $57,379.93 |
| Scott Trotter (DEM) | $950.27 | $9.00 | $129.87 |
| Douglas Underhill (REP) | $34,843.00 | $759.00 | $21,054.90 |
| | $119,835.28 | $9,143.00 | $78,564.70 |
| | | | |
| District 4 | Monetary Contribution | In Kind | Expenditures |
| Leigh Bell (WRI) | $0.00 | $0.00 | $0.00 |
| Robert Bender (REP) | $50,758.36 | $1,182.04 | $22,411.18 |
| Kendrick Doidge (REP) | $53,034.00 | $1,147.47 | $19,155.84 |
| William Fetke (REP) | $7,485.04 | $99.72 | $6,288.44 |
| Greg Litton (REP) | $0.00 | $0.00 | $0.00 |
| Terry Strickland (REP) | $4,410.00 | $680.70 | $2,415.80 |
| Boyce White (REP) | $37,460.00 | $650.00 | $8,261.47 |
| | $153,147.40 | $3,759.93 | $58,532.73 |
| | | | |
| Combined | $272,982.68 | $12,902.93 | $137,097.43 |
DISTRICT 2
McMillan, Alan-561
Date
Vendor
Amount
Contributor Type
5/25/18
128 Creative Collective
3000
Consulting/Marketing Expense
4/4/18
Award Masters
99.22
Name Tags
4/2/18
Barcelo & Co.
3000
Consulting
3/15/17
Birdwell Agency
4375
Print and electronic media procurement
4/24/17
Birdwell Agency
680
Promotional items
5/23/17
Birdwell Agency
1186
Promotional items
6/5/17
Birdwell Agency
1010
 promotional items, media
6/28/17
Birdwell Agency
2302
Promotional items
7/12/17
Birdwell Agency
3000
Campaign planning & messaging
8/11/17
Birdwell Agency
696
Promotional messaging services
9/7/17
Birdwell Agency
784.87
Promotional materials
9/11/17
Birdwell Agency
375
Promotional messaging
9/26/17
Birdwell Agency
375
Promotional messaging
10/19/17
Birdwell Agency
275
Campaign messaging
11/7/17
Birdwell Agency
5000
Campaign strategy & messaging
3/29/18
Boyett's Restroom Trailer
424.63
Portable Toilets
5/1/18
Dunn Media LLC
871.25
Marketing
5/14/18
Dunn Media LLC
225
Marketing Expense
3/30/17
Escambia County
28
Maps
6/13/17
Escambia County
30
GIS Maps
7/17/17
Escambia County
50
Petition Submission
10/9/17
Evergreen
457.41
Printing Services
3/20/18
Evergreen
3296.75
Signs
4/4/18
Evergreen
309.6
Car Signs
4/18/18
Evergreen
37.63
Printing Services
4/30/18
Evergreen
3631.41
Signs
6/14/17
Framing by Design
43.89
Mounting service
1/19/18
Governmental Prayer Breakfast
120
Governmental Prayer Breakfast
4/13/18
Hdji Shrine Center
300
Advertising
4/5/18
Kirschner, Dean
321.37
Reimbursement for  Fund Raiser
11/22/17
Kirwan, Ronan
3500
Consulting
2/2/18
Kirwan, Ronan
2800
Social Media
3/16/18
Kirwan, Ronan
1500
Social Media
4/6/18
Kirwan, Ronan
1500
Social Media
5/1/18
Kirwan, Ronan
1500
Marketing
4/13/18
Lamar Advertising
2150
Advertising
3/19/18
McKinnon, Denis
343.43
Wood for Signs
3/19/18
McKinnon, Denis
921.05
Food, Drinks and supplies for fund raiser meeting
4/20/18
McKinnon, Denis
342
Reimbursement for facility and food for fund raiser
5/8/18
McKinnon, Denis
741
Reimbursement for T.D.L. SP & E Invoice-Printing Expense
4/20/18
McMillan
53.25
Reimbursement for campaign lunch
4/18/18
McMillan, Stuart
50
Refund on Cash Contribution
5/14/18
Navy Crossings LLC
2365
Rent Expense
3/14/17
Office Depot
36.26
Inked Stamps
5/25/17
Office Depot
77.43
Printing<br>services
9/1/17
Office Depot
113.94
Office supplies
5/12/17
Palafox Printing
850
Study Questions
5/26/17
PayPal
0.33
Transaction fee
5/31/17
PayPal
0.33
Transaction fee
6/7/17
PayPal
3.2
Transaction fee
12/21/17
PayPal
6.1
Transaction fee
3/21/18
PayPal
7.55
PayPal Fees
5/14/18
Peoples Water
80
Utilities Expense
3/29/18
Printeres of Pensacola
48.91
Post Cards
1/22/18
Square
52.68
Purchase credit card reader
1/22/18
Square
0.01
Verified accounty
1/22/18
Square
2.75
Transaction Fee
3/19/18
Square
0.69
Square Fees
5/31/18
The Warrington Bank
12.95
Bank Fees
4/4/18
Trigger's Seafood
110.94
Lunch Meeting for fund Raising
3/3/17
United States Postal Service
112
PO Box rental
4/2/18
US Postal Service
60
Post Office Box Rental
3/14/17
USPS
49
Postage
7/13/17
USPS
98
Stamps
4/20/18
Verazo, Sava
426.38
Reimbursement for  fund raiser
3/22/17
Warrington Bank
14.2
Campaign<br>Checks
4/30/17
Warrington Bank
8
Service Fee
5/31/17
Warrington Bank
8
Service Fee
6/30/17
Warrington Bank
10
Service Charge
7/3/17
Warrington Bank
-2
Service Charge adj
7/31/17
Warrington Bank
8
Service Charge
8/31/17
Warrington Bank
8
Service Charge
9/30/17
Warrington Bank
8
Bank service charge
10/31/17
Warrington Bank
8
Bank Service Charge
11/30/17
Warrington Bank
8
Service Charge
12/30/17
Warrington Bank
8
Service charge
1/22/18
Warrington Bank
8
January service charge
2/28/18
Warrington Bank
8
Bank Fees
3/31/18
Warrington Bank
8
Bank Fee
4/30/18
Warrington Bank
10
Bank Fees
2/1/18
Warrngton Bank
4.95
Bank Fees
3/1/18
Warrngton Bank
4.95
Bank Fees
5/31/18
Wings & Things Monogramming
8.6
Promotional Material
6/30/17
Wings and Things
324.65
Shirts
4/5/18
Wings and Things Monogramming
26.88
Monogramming
5/18/18
Zarahn Insurance Agency
669.49
Insurance Expense
57379.9
Trotter, Scott-589
Date
Contributor LName
Amount
Contributor Type
3/21/18
Amazon.com
10.89
Campaign Buttons
3/29/18
Dlux Printing and Mailing
31.18
Business Cards
4/16/18
Facebook
7.93
Facebook post promotion
5/24/18
Facebook
25
Facebook<br>post<br>promotion
5/25/18
Facebook
5.64
Facebook post promotion
4/27/18
Facebook
4.86
Facebook post promotion
3/21/18
GoDaddy
12.18
Website hosting
3/19/18
Namecheap
8.88
SSL<br>Certificate
4/7/18
Navy Exchange
6.99
Printer paper
3/27/18
Precision Strip
0.45
ACH Transaction fee
3/30/18
Precision Strip
0.91
ACH<br>Transaction<br>Fee
4/2/18
Precision Strip
0.61
ACH Tranaction Fee
4/5/18
Precision Strip
1.8
ACH Processing Fee
4/16/18
Precision Strip
1.8
ACH Processing Fee
5/2/18
Precision Strip
1.75
ACH Processing Fee
4/4/18
UWF Printing Services
9
Printing poster
129.87
Underhill, Douglas-562
Date
Contributor LName
Amount
Contributor Type
4/1/18
ClemRan LLC
500
Headquarter Lease
5/29/18
Clemran LLC
500
Headquarter Lease
4/1/18
Dee Horton Photography
100
Photography
2/6/18
Escambia County FL
50
Petitions
1/6/18
Fil-Am Association of Pens Inc
160
Coronation night of the Mrs. Philippines
1/23/18
Government Prayer Breakfast
120
Prayer<br>Breakfast
3/12/18
Gravis Marketing
750
Poll
6/14/17
Harland Clarke
12.1
Check order
5/3/18
Innerarity Ace Hardware
237.14
Sign<br>Supplies
5/22/18
Innerarity Ace Hardware
541.53
Sign Supplies
4/24/18
Lost Key Golf Club
1812.5
Fundraiser
8/8/17
Paypal
7.55
Paypal Fees
10/11/17
PayPal
10.75
Credit<br>Card Fee
10/20/17
PayPal
1.75
Credit Card Fee
12/13/17
Paypal
1.03
Paypal fee
1/2/18
Paypal
29.3
Credit Card Fees
4/2/18
PayPal
12.78
credit card charges
4/11/18
Paypal
7.91
Credit<br>Card<br>Charges
5/1/18
PayPal
1.75
Credit Card Charges
8/8/17
Paypal
58.6
Paypal Fees
5/8/18
Perdido Key Chamber
200
Tee Sign
10/31/17
Social Icon
2400
Campaign Mgmt, website development
11/22/17
Social ICON
900
Campaign Mgmt, website development
1/8/18
Social Icon
700
Campaign Mgmt/website development
7/31/17
Social Icon LLC
1250
Campaign Mgmt, Website Development
9/20/17
Social Icon LLC
1100
Campaign Mgmt, Website Developemnt
6/16/17
Social ICON, LLC
600
Campaign Management
8/29/17
Social ICON, LLC
1100
Campaign Mgmt, Website Development
5/8/18
St. Thomas More Catholic Churc
300
Digital billboard with Lamar
4/3/18
The Sign Shop
195.65
Campaign materials
2/28/18
The Sign Shop of Pensacola
3765.73
Signs and Flyers
3/13/18
The Sign Shop of Pensacola
1047.05
Door Hangers/campaign materials
5/4/18
The Sign Shop of Pensacola
935.25
Stickers & Signs
1/8/18
Underhill
1000
Repayment<br>of Loan
4/25/18
US Postmaster
100
Postage
6/30/17
Warrington Bank
11.22
Bank Service Charge
7/31/17
Warrington Bank
10.48
Bank Service Charge
8/31/17
Warrington Bank
11.25
Bank Service Charge
9/30/17
Warrington Bank
9.11
Bank Service Charge
10/31/17
Warrington Bank
11.4
Bank Service Charge
11/30/17
Warrington Bank
6.07
Bank Service Charge
2/15/18
Webelect.net
487
Subscription & walk list
21054.9
DISTRICT 4
Bender, Robert-573
Date
Contributor LName
Amount
Contributor Type
11/27/17
Anedot
10.3
Campaign  Transaction Fee
11/29/17
Anedot
1.3
Campaign  Transaction Fee
12/4/17
Anedot
6.3
Campaign  Transaction Fee
12/5/17
Anedot
20.3
Campaign  Transaction Fee
12/17/17
Anedot
20.3
Campaign  Transaction Fee
12/27/17
Anedot
20.3
Campaign  Transaction Fee
12/29/17
Anedot
4.3
Campaign  Transaction Fee
1/11/18
Anedot
10.3
Campaign  Transaction Fee
2/8/18
Anedot
4.3
Campaign  Transaction Fee
2/19/18
Anedot
4.3
Campaign  Transaction Fee
2/21/18
Anedot
20.3
Campaign  Transaction Fee
3/7/18
Anedot
4.3
Campaign  Transaction Fee
3/14/18
Anedot
20.3
Campaign  Transaction Fee
3/24/18
Anedot
4.3
Campaign  Transaction Fee
3/27/18
Anedot
10.3
Campaign  Transaction Fee
4/30/18
Anedot
4.3
Campaign  Transaction Fee
4/30/18
Anedot
10.3
Campaign  Transaction Fee
5/15/18
Anedot
10.3
Campaign  Transaction Fee
5/20/18
Anedot
10.3
Campaign  Transaction Fee
5/30/18
Anedot
10.3
Campaign  Transaction Fee
12/31/17
Bank of Pensacola
8
Bank Fee Service Charge
3/3/18
Bill Bond Baseball
350
Sponsorship
3/25/18
Classic City Catering
1889.05
Catering
3/9/18
Custom Baskets
116.1
Decorations
2/13/18
Escambia County General Fund
46.3
Petitions
5/2/18
Escambia County General Fund
5.5
Petitions
3/13/18
Facebook
4
Advertising
3/18/18
Facebook
25
Advertising
4/2/18
Facebook
47.02
Advertising
4/11/18
Facebook
1
Advertising
5/1/18
Facebook
4.44
Advertising
1/24/18
Governmental Prayer Breakfast
120
table
3/13/18
Great Southern
1941.25
Food/Beverages
5/23/18
Greater Pensacola Chamber
25
Campaign School
1/23/18
Hamilton Art Agency
3210
Yard Signs
2/14/18
Hamilton Art Agency
929.25
Signs
11/14/17
Harland Clarke
21.35
Check Order
3/8/18
Home Builders Association
20
HBA/PAR/Chamber Luncheon
5/23/18
Home Depot
114.54
Wood for Signs
3/13/18
Inlow, jim
75
DJ
3/9/18
Laser Images
101.91
Buttons
1/22/18
Lionfish Apparel
279.5
Printing
1/12/18
Living the Dream
240
MLK Banquet
3/13/18
Logo Motion
1285.12
Campaign Materials
4/24/18
Logo Motion
290.25
Campaign Materials
5/16/18
McKay, Mariah
50
Event Staff
4/27/18
Mitchell, Emily
300
Social Media
5/15/18
Mitchell, Emily
300
Social Media
3/13/18
Moore, Austin
250
Event Staff
3/9/18
Office Depot
28.66
Campaign Supplies
4/10/18
Outcast Unit Hadji Shrine
185
Advertising
4/23/18
Party City
32.25
Decorations<br>for event
11/7/17
Pensacola Beach Advocates
30
Annual Membership Dues
5/5/18
Pensacola Beach Optimist Club
30
Event
3/5/18
Post Office
50
Postage
3/23/18
Rosie O'Grady's
459.78
Beverages
4/22/18
Sandshaker
1075
Campaign Event
5/20/18
Sandshaker
450
Campaign Event
4/10/18
Shelley Ink
200
Advertising
11/17/17
Speedy Stamp & Engraving Co.
33.17
Name Badge
11/16/17
Strategic Image Management
1000
Strategic Consulting
11/16/17
Strategic Image Management
1000
Strategic Consulting
2/2/18
Strategic Image Management
2035
Consulting, Website, Webelect
3/3/18
Strategic Image Management
1000
Consulting
4/2/18
Strategic Image Management
1000
Consulting
5/10/18
Strategic Image Management
1223.3
Consulting, Webelect
3/30/18
The Home Depot
76.54
Wood for Signs
11/15/17
U.S. Postal Service
112
1 year Post Office Box
1/2/18
Venmo
0.06
Refund bank routing verification
1/2/18
Venmo
0.3
Refund bank routing verification
11/15/17
Vista Print
58.29
Campaign Cards
4/19/18
Vowells
43
Printing
3/2/18
Vowells Printing
32.25
Printing
22411.2
Doidge, Kendrick-560
Date
Contributor LName
Amount
Contributor Type
10/24/17
AT&T
140
phone
11/15/17
AT&T
147.61
phone bill
12/4/17
AT&T
163
telephone
1/3/18
AT&T
124.94
telephone
2/4/18
AT&T
125.42
telephone
3/6/18
AT&T
125.42
telephone
4/1/18
At&t
125.42
Phone
5/9/18
At&t
150
Telephone
5/10/18
BJ's Restaurant
21.99
Donor Meeting
5/30/17
Bowman,Sheliah
72.41
Invitations and stamps
5/9/17
Cactus Cantina
699.49
Fundraiser
12/7/17
Cheddar\'s
28.9
Strategy lunch
2/22/18
Cheddar\'s
26.29
Fundraising meeting
3/19/18
CVS
20
Stamps
5/21/18
Denny's
16.22
Strategy Breakfast
3/25/18
Duncan McCall Advertising
1500
Advertising
4/1/18
Duncan McCall Advertising
1500
Marketing
11/15/17
Escambia Co Republican Party
250
Donation 1st Responder dinner
11/15/17
Escambia Co Republican Party
20
T-shirt
6/10/17
Escambia County General Fund
50
Petitions
4/23/18
Escambia Federated Women Club
36
Luncheon
4/3/17
Evergreen
61.88
List processing & printing services
5/10/18
Florida House
250
Ticket for Fundraiser
11/7/17
Frank & Lola
220.85
meet the canidate
8/15/17
Front Line Strategies
500
 Strategic Development
9/30/17
Front Line Strategies
500
Strategic planning
10/24/17
Front Line Strategies
500
Strategic Planning
11/15/17
Front Line Strategies
500
Strategic planning
12/15/17
Front Line Strategies
500
Strategic planning
2/4/18
Front Line Strategies
1000
strategic planning
12/15/17
Front Lines Strategies
500
Strategic planning
1/1/18
Front Lines Strategies
1000
Strategic planning
5/7/18
Front Lines Strategies
1000
Strategic Planning
3/25/18
Frontline Strategies
1000
Strategic Planning
4/1/18
Frontline Strategies
1000
Strategic Planning
6/15/17
FSI Group
840.4
Promotional<br>items
11/15/17
Governmental Pray Breakfast
120
Table at breakfast on 1/27/18
4/28/18
Hot Stop
100.38
Volunteer Lunch
5/9/18
Hub Stacy's
26.61
Strategy Lunch
1/11/18
Krispy Kreme
11.53
Volunteer Appreciation
4/20/18
Lowes
16.16
Sign materials
4/21/18
Lowes
214.62
Sign Material
4/21/18
Lowes
12.38
Sign Material
4/23/18
Lowes
192.43
sign material
5/10/18
McGuire's
51.38
Donor Lunch
5/7/18
Mr. Robbins Neighborhood
205
Ticket to Charity Event
1/3/18
Office Depot
51.57
General office supplies
1/26/18
Office Depot
37.39
Labels
4/3/18
Office Depot
18.7
Labels
1/11/18
Outback Steakhouse
52.41
Campaign Strategy Lunch
5/7/18
Outcast Unit
300
Promotion Table
2/8/18
Ozone
65.16
Neighborhood Assc. meeting
3/22/18
Pensacola Little Theatre
200
Fundraiser
1/3/18
Pensacola Parade People
31.12
Specialty Item
4/3/18
Pensacola Parade People
31.12
Specialty items
4/27/18
Pensacola State College Founda
300
Sign Sponsor
5/3/18
Pensacola State College Founda
800
Silent Auction-Billboards
2/14/18
Pensacola Yacht Club
51.62
Strategy meeting
5/2/18
Premium Parking
2.35
Parking
5/18/18
Premium Parking
2.35
Parking
4/23/18
Publix
39.18
volunteer lunch
4/21/18
Randall's Formal Wear
99
Formal wear rental
1/27/18
Sacred Heart Mall Ball
80
Volunteer apprecation
10/24/17
Scenic 90
147.98
Meet the candidate
5/2/18
Shell Oil
30
gas
5/2/18
Skopelos
30.08
Donor lunch
4/4/18
Sonny's
30.93
Strategy lunch
10/24/17
Sonny\'s
239.85
Meet the candidate
10/30/17
Stripe
3.79
Credit card fee
11/15/17
Stripe
3.79
credit card fee
3/31/18
Stripe
7.55
Credit card fee
5/30/18
Stripe
4.95
Credit Card Fee
9/30/17
Stripe
0.39
credit card fee
5/17/18
Supervisor of Elections
15
Petitions
4/12/18
The Frisky Dolphin
59.27
Volunteer Dinner
5/3/18
Toro Bravo
12.36
Volunteer Lunch
11/15/17
Walgreens
9.8
Stamps
1/22/18
Web Elect
731.4
voter technology support
19155.8
Fetke, William-555
Date
Contributor LName
Amount
Contributor Type
7/17/17
AJD Consultants
300
CAMPAIGN MANAGEMENT
5/24/17
AJD CONSULTING
300
CAMPAIGN<br>MANAGEMENT
6/1/17
AJD CONSULTING
300
CAMPAIGN MANGEMENT
8/24/17
AJD CONSULTING
300
CAMPAIGN<br>MANGEMENT
9/8/17
AJD CONSULTING
300
CAMPAIGN MANAGEMENT
9/16/17
AJD CONSULTING
227.5
FUNDRAISING COMMISSION
9/29/17
AJD CONSULTING
300
CAMPAIGN MANAGEMENT
10/2/17
BROUSSARDS
390.23
CATERING
9/16/17
BROUSSARDS BAYOU GRILL
227.5
CATERING FOR FUNDRAISER
6/14/17
CASINO BEACH BAR AND GRILL
118.19
CAMPAIGN STAFF MEETING
4/27/18
CITY OF PENSACOLA
75
IDEMNITY BOND FOR SIGNS
12/3/17
COX CHRISTMAS PARADE
100
ENTRY FEE
5/16/18
CREATIVE WE SOLUTIONS
75
web site
5/29/18
CREATIVE WE SOLUTIONS
60
WEB SITE STORAGE
9/29/17
DEMARTIN, ANDREW
150
HOUSE CLEANING-FUNDRAISER
12/3/17
DOLLAR GENERAL
15.91
SANTA HATS
5/15/17
DOWNTOWN IMPROVEMENT BOARD
0.75
PARKING
10/20/17
ESCAMBIA REPUBLICAN PARTY
250
FIRST RESPONDERS DINNER
12/26/17
GOVERNMENTAL PRAYER BREAKFAST
120
TABLE RESERVATION
5/19/17
HARLAND CLARKE
51.59
CHECKS
2/28/18
LONGHORN STEAKHOUSE
59.7
CAMPAIGN STAFF MEETING
5/16/17
MOORE,VIVAN
30
ADVERTISING
5/10/17
PAYPAL
0.04
DEPOSIT TESTING
8/18/17
PAYPAL
9.36
SERVICE FEE
4/17/18
PAYPAL
10.03
SERVICE FEE
4/30/18
PAYPAL
14.8
TSF FEE
11/30/17
PENSACOLA BEACH
50
CHRISTMAS PARADE
8/31/17
REGION BANK
10
MONTHLY FEE
4/30/18
REGION BANK
10
MONTHLY FEE
7/31/17
REGIONS BANK
10
MONTHLY<br>FEE
9/8/17
REGIONS BANK
36
OVERDRAFT FEE
9/29/17
REGIONS BANK
10
MONTHLY FEE
10/31/17
REGIONS BANK
10
MONTHLY FEE
11/30/17
REGIONS BANK
10
MTHLY FEE
12/29/17
REGIONS BANK
10
MTHLY FEE
1/31/18
REGIONS BANK
10
MTHLY FEE
2/28/18
REGIONS BANK
10
monthly fee
3/30/18
REGIONS BANK
10
MTHLY FEE
5/31/18
REGIONS BANK
10
MTHLY FEE
10/2/17
SALAMAT, Allan
200
T-SHIRTS
5/16/18
SENTEX SOLUTIONS
59
TEXT MSSG SVS
11/16/17
SENTEXT SOLUTIONS
199
TEXT MESSAGING SERVICE
2/28/18
SENTEXT SOLUTIONS
59
txt message program
3/16/18
SENTEXT SOLUTIONS
59
TEXT SVS
4/16/18
SENTEXT SOLUTIONS
59
TEXT SVS
4/7/18
SHELLY INK
200
ADVERTISING
4/11/18
SUPERVISOR OF ELECTIONS
10
PETITIONS
4/26/18
SUPERVISOR OF ELECTIONS
3.2
PETITIONS
5/16/17
SUYAT, FLO
50
ADVERTISING
4/20/18
THE HOME DEPOT
10.86
WOOD FOR SIGNS
7/24/17
THE PRINT CENTER
51.6
YARD SIGNS
8/28/17
THE PRINT CENTER
52.68
FUNDRAISER INVITATIONS
4/27/18
THE PRINT CENTER
440.75
SIGNS
5/24/18
THE PRINT CENTER
505.25
signs
10/2/17
VILLAGE INN
9.86
COFFEE w/ SCHOOL BOARD MEMBER
6/22/17
VISTA PRINT
185.17
BUS CARDS AND DOOR HANGERS
11/27/17
VISTA PRINT
6
ADDRESS LABELS
11/27/17
VISTA PRINT
146.47
CHRISTMAS CARDS
6288.44
Strickland, Terry-585
Date
Contributor LName
Amount
Contributor Type
3/7/18
Check Printing Solutions
12.9
Checks for account
3/9/18
Copy Cat
63.31
Printed campaign petitions  &  maps
3/13/18
Copy Cat
41.87
6 clipboards w/storage
4/30/18
Escambia County General Fund
55
Supervisor of Elections Petition verififcation
5/7/18
Escambia County General Fund
4.2
Supervisor of Elections Petition verification
5/30/18
Hassebrock Inc Computer Repair
335.4
9 32×48 sign and 2 t-shirt transfers
6/19/18
Lowe's
54.16
Wood and paint for large signs
3/20/18
Next Day Flyers
908.47
Business cards and doorhangers
5/11/18
Signs.com
472.4
100 24×18 double sided campaign signs
5/24/18
Signs.com
401.54
100 24×18 double sided campaign signs
5/24/18
Signs.com
-94.48
Refund Credit back to account
4/16/18
Stripe
0.59
CC processing fee
5/24/18
THE GREATER PENSACOLA CHAMBER
25
Campaign School fee
5/17/18
The Home Depot
135.44
Wood and scews for large campaign signs
2415.8
White, Boyce-568
Date
Contributor LName
Amount
Contributor Type
12/14/17
ACE Hardware of GB
12.9
Items to make signs
1/30/18
Alumna Design
437.42
Campaign Signs
10/11/17
Amazon
41.22
Purchase plates, etc for fund raiser.
12/1/17
AT&T
83.75
Cell Phone Bill
1/3/18
AT&T
83.75
Cell<br>Phone-Dec
1/30/18
AT&T
83.83
Cell<br>Phone-Jan
2/28/18
AT&T
83.83
Cell Phone Bill
3/31/18
AT&T
83.84
Cell Phone Bill
4/30/18
AT&T
84.33
Cell Phone
5/31/18
At&T
84.33
Cell Phone<br>Bill
11/10/17
AT&T Mobility
83.75
Mobile<br>Phone Bill
5/23/18
Bill Johnson Bartender
51.61
Items for Fundraiser
5/21/18
Building Supply
124.49
Sign Materials
2/9/18
Campaign Graphics
3019.94
Signs
3/9/18
Circle K
34
Gas for Jeep for Campaign Sign relocating
5/6/18
Direct Mail Systems
214
Artwork design
3/22/18
Dollar General
8.56
Buying Clipboards for petition cards
1/22/18
DonorBox
3.2
Service Charge Fee
1/25/18
DonorBox
14.8
Service<br>Charge Fee
2/28/18
Donorbox
9.34
Credit Card Processing Fee
5/31/18
DonorBox
7.43
Credit Card Processing Fee
2/26/18
EFRWC Republican Women
18
Republican Women Meeting
4/9/18
Escambia County General Fund
20
Petition Card Certification
5/2/18
Escambia County General Fund
1
Petition Cards Verification
2/26/18
Escambia County SoE
30
Petition Cards Verfication
4/22/18
Four Winds Fine Food
39.44
Food Items for Fundraiser
12/28/17
GoDaddy.com, LLC
1.17
Domain Registration
2/28/18
Goss, Erik
100
refund
12/14/17
Greater Pensacola Chamber of
70
Political Luncheon
3/15/18
Krispy Kreme
20.58
Food for breakfast meeting
12/2/17
Logo Motion
177.38
Presentation Material
5/22/18
Lowes
39.56
Sign Materials
2/21/18
New Yorker Deli
26
Campaign Staff Meeting
3/14/18
Office Depot
78.45
Printer & Mouse for campaign information
4/9/18
Office Depot
64.19
Ink for Printer
10/3/17
Office Max
42.86
 Registration  Petition Cards
5/21/18
Pensacola Hardware
33.56
Sign Materials
5/21/18
Pensacola Signs
1416.85
Campaign Signs
2/14/18
Seville Quarter
56
Campaign Staff Meeting
3/7/18
Seville Quarter
55
Campaign Strategy Lunch
3/21/18
Seville Quarter
35.25
Campaign Strategy Lunch Meeting
5/9/18
Shell Oil
36
Gas for Jeep
2/28/18
Stallings Barbershop
15
Haircut for Photoshoot
3/1/18
Stallings Barbershop
15
Haircut for photoshoot
12/6/17
The Cigar Factor
28
Meeting with Contributor
11/7/17
The Coffee Cup
18
Meeting  about Environmental issues
10/17/17
The Deli Case
40
Political Strategy Meeting
9/27/17
The First Bank
25.9
Print checks
12/4/17
The Fish House
39
Political Lunch
2/13/18
The Marketing Bar
54
Campaign Business Cards
4/29/18
Tom Thumb
69.29
Items for fundraiser
10/30/17
US Post Office
49
Stamps for Thank You Notes
2/16/18
US Post Office
50
Stamps for Thank-you Notes
4/10/18
Vowells Printing, LLC
32.25
Name Tags and Printing Invitations
4/16/18
Vowells Printing, LLC
6.45
Additional Invitations
4/22/18
Walmart
59.04
Additional items for fundraiser
12/1/17
WebElect.net, LLC
620
Website Connection
10/18/17
Winn Dixie
68.93
Fund Raiser food purchases
12/28/17
Wix.com
60
Web Hosting Site
8261.47