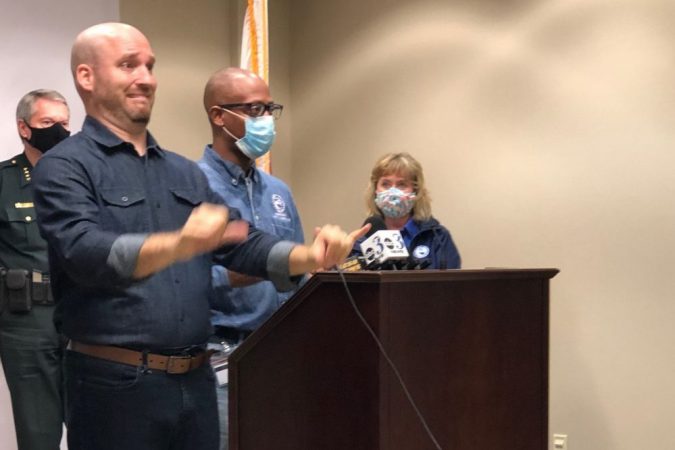 County Administrator Janice Gilley told the media this morning that the county is waiting for the federal government to declare Escambia County a major disaster before the county can be reimbursed by FEMA for its recovery expenses.
Commissioner Robert Bender said, "The first thing we asked Sen. Scott, Congressman Gaetz and Gov. DeSantis was for that major declaration."
According to Bender and Gilley, all three said they had been in contact with the White House. They were referring to a closed-door meeting Sen. Rick Scott, Rep. Matt Gaetz and Gov. Ron DeSantis had with the city and county officials yesterday afternoon.
Gilley said that a FEMA representative arrived at the EOC yesterday but was not there today. She provided no explanation of his absence. She said the FEMA has an assessment team here that will evaluate the damage caused by Hurricane Sally. Its assessment will be used to determine whether the major declaration is made. Or President Trump could do on his own, according to county officials.
Mayor Grover Robinson said his staff has identified 82 roads that are blocked by downed trees. The city has hired contractors to clean the roads, and he expects all city streets to be cleared by the end of the day.
When questioned by Inweekly, Gilley and Emergency Manager Eric Gilmore said the county has also hired contractors that working on removing fallen trees.
Mayor Robinson said he has been working on getting ice for the area. Gilmore said state logistics will not be supplying ice for residents, at least in the first shipments coming to our area. Robinson said ice will be made available to both city and county residents when it's available. One issue has been the county is under a boil water notice, and the mayor is working with ECUA to get a dedicated water line for ice suppliers.
Gilmore said bottled water and MREs are on the way from Tallahassee. He has had trouble identifying eight sites for distribution because state law requires the sites not be within the sight of a grocery store. He hopes to get approval for the eight sites later today.
Commissioner Lumon May expressed his frustrations with the state and federal governments' slow response. He said, "We need food, water and ice yesterday."
Mayor Robinson shared with Inweekly after the presser that he thought the state has been slow getting supplies to the area because the shipments come from the east.
"One of the reasons Hancock Whitney has been able to get us ice is they brought it from the west," said Robinson.