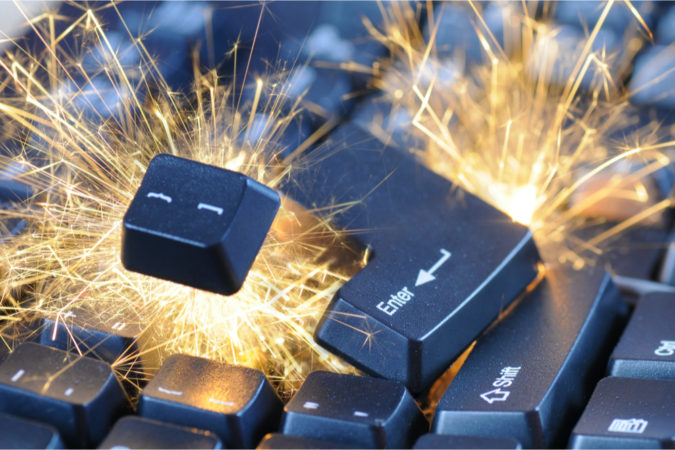 Florida topped 33K COVID-19 cases and the death toll is over 1,200.  Escambia County had 11 new cases, approaching 500.
According to the FDOH dashboard, DOH Escambia entered 140 new test results in the past 24 hours. Of those results, 7.9% came back positive, which raised the overall positive percentage to 7.2%. This week the overall positive percentage has bounced between 7.0%-7.2%.
Escambia County is no longer sending any information of specimen collections so we can't track outstanding tests. However, Dr. Lanza yesterday told the commissioners  the county had a about thousand test results outstanding.
FDOH did not release a county surveillance report on April 28. The report issued today only covers eight counties. The detailed long-term care facilities report has not been released for today. The promised "robust" reporting has fallen behind. Sigh.
---
The Jackson County Floridian published these tips from the Jackson County Chamber of Commerce on how businesses should prepare for re-opening:
Have a written reopening plan.
Gather the supplies to activate the plan.
Build a safety zone for your customers.
Practice social distancing – staff and customers.
Establish and maintain a cleaning routine.
Communicate what your doing – signage, social media, advertising.
---
| | | | | |
| --- | --- | --- | --- | --- |
| | 4/28/20 | 4/28/20 | | |
| | 11 a.m. | 11 a.m. | Increase | |
| Total Cases | 32846 | 33193 | 347 | 1.06% |
| Florida Residents | 31986 | 32318 | 332 | 1.04% |
| Non-Fla. | 860 | 875 | 15 | 1.74% |
| Deaths | 1171 | 1218 | 47 | 4.01% |
| | | | | |
| Escambia | 485 | 496 | 11 | 2.27% |
| Okaloosa | 152 | 153 | 1 | 0.66% |
| Santa Rosa | 151 | 153 | 2 | 1.32% |
Top 20 Florida Counties
| | | | | |
| --- | --- | --- | --- | --- |
| Rank | County | Population | Cases | Per 30K |
| 1 | Dade |     2,715,516 | 11927 |    131.77 |
| 2 | Broward |     1,924,229 | 4898 |      76.36 |
| 3 | Palm Beach |     1,446,277 | 2911 |      60.38 |
| 4 | Orange |     1,321,194 | 1371 |      31.13 |
| 5 | Hillsborough |     1,378,883 | 1105 |      24.04 |
| 6 | Duval |        924,229 | 1007 |      32.69 |
| 7 | Lee |        718,679 | 1003 |      41.87 |
| 8 | Pinellas |        957,875 | 718 |      22.49 |
| 9 | Collier |        363,922 | 581 |      47.89 |
| 10 | Manatee |        373,853 | 567 |      45.50 |
| 11 | Escambia |        311,522 | 496 |      47.77 |
| 12 | Osceola |        338,619 | 479 |      42.44 |
| 13 | Polk |        724,777 | 468 |      19.37 |
| 14 | Volusia |        527,634 | 448 |      25.47 |
| 15 | Seminole |        455,086 | 373 |      24.59 |
| 16 | Sarasota |        412,144 | 338 |      24.60 |
| 17 | Clay |        207,291 | 272 |      39.36 |
| 18 | Brevard |        601,942 | 270 |      13.46 |
| 19 | Alachua |        263,148 | 262 |      29.87 |
| 20 | Pasco |        510,593 | 241 |      14.16 |
Top Five Counties – Per Capita (min 240 cases)
| | | | | |
| --- | --- | --- | --- | --- |
| Rank | County | Population | Cases | Per 30K |
| 1 | Dade |     2,715,516 | 11927 |    131.77 |
| 2 | Broward |     1,924,229 | 4898 |      76.36 |
| 3 | Palm Beach |     1,446,277 | 2911 |      60.38 |
| 4 | Collier |        363,922 | 581 |      47.89 |
| 5 | Escambia |        311,522 | 496 |      47.77 |