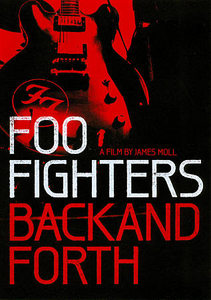 Deluna Fest is still more than two months away and just to build even more anticipation, the Deluna team is offering free movie nights featuring some of the musical acts you can't wait to see on the beach.
The idea for the movie nights came from the "Producer's Picks" committee: Scott and Emily Mitchell and Gus and Allison Brandt.
"Each movie or documentary has been picked to showcase some of the bigger acts of the festival and give people a chance to learn about the acts," said Scott Mitchell. "We hope to give the DeLuna Fest fans events to help get them excited and keep them excited for the 70-plus days until the festival."
First up is the Foo Fighters' "Back and Forth," which will be shown tomorrow at 8 p.m. inside Seville Quarter.  The movie is free to watch. Budweiser specials, popcorn will be available and you have the chance to win a copy of "Back and Forth."
"Many people have heard about or are fans of the Foo Fighters, but by watching 'Back and Forth' you can learn the whole history of the band in detail," Mitchell said. "It is fascinating to know the back-story of how they became the biggest rock act around."
While the four person committee has chosen movies about Deluna Fest acts, they also looked for quality.
"We chose Back and Forth because it is really good," Mitchell said. "Lots of music clips with the full catalog of Foo Fighter songs – their greatest hits plus the story of their current Grammy winning album 'Wasting Light.' Movie night doesn't work if the movie stinks."
There will be more movie nights in the future leading up to the big Deluna Fest weekend.  Cameron Crowe's award-winning documentary on Pearl Jam, "Pearl Jam Twenty," will be at The Fish House on July 24 and the 1974 classic, "The Harder They Fall," starring Jimmy Cliff will be at Flounder's on August 7. Check facebook.com/delunafest and delunafest.com for more details.
DELUNA FEST MOVIE NIGHT : "BACK AND FORTH"
WHEN: 8 p.m. July 11
WHERE: Seville Quarter
COST: Free
DETAILS: facebook.com/delunafest