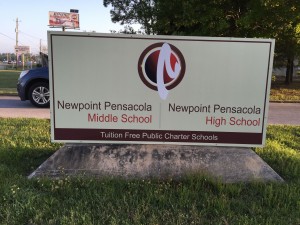 Escambia County Deputy Superintendent Norm Ross reported today that the district's investigator – a former NCIS investigator – opened an investigation into Newpoint misconduct two weeks ago.
Ross said: "I can assure you there is additional information" besides the allegations detailed in 22-page document from a school whistleblower that was released on Monday to Inweekly via a public records request.
Ross emphasized that the school district has no control over charter schools' "day-to-day" operations. "We have no jurisdiction with the staff."
The piece of information that finally got the school district to act was information about fixing grades on tests. He acknowledged that Superintendent Malcolm Thomas received the whistleblower's information several months ago and he said the district looked into those allegations.
"This company has had some problems throughout state," he said. "It's hard to say what level of cooperation we will get. We would like to put this to bed as quickly as possible."