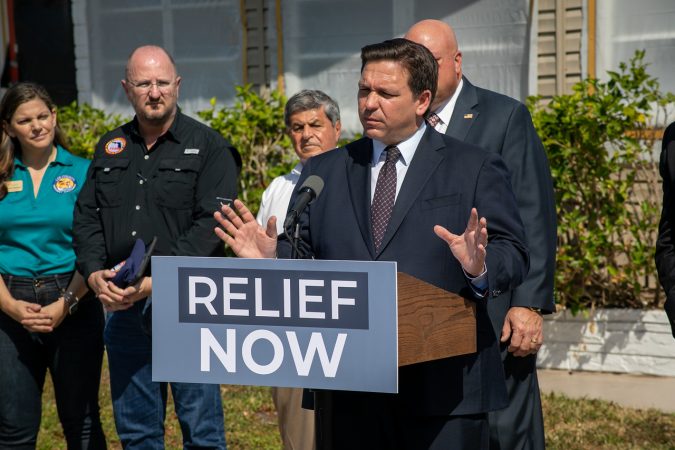 From his latest solicitation for campaign contributions:
I will never allow woke corporations to strong-arm our state.
Yesterday, I announced that I am calling on the state legislature to eliminate Disney's sweetheart deal – negotiated and preserved for decades by the powerful. This deal allows Disney to govern itself on the grounds of Walt Disney World – a benefit not afforded to you or me.
If Disney wants to pick a fight, they chose the wrong guy.
As Governor, I was elected to put the people of Florida first, and I will not allow a woke corporation based in California to run our state.
Disney has gotten away with special deals from the state of Florida for way too long. It took a look under the hood to see what Disney has become to truly understand their inappropriate influence.
Disney thought they ruled Florida. They even tried to attack me to advance their woke agenda. Now, parents see Disney for what it is. And now is the time to put the power back in the hands of Floridians and out of the pockets of woke executives.
I know you know this, Rick, but this is just the beginning of our battle against the liberal machine. This fight isn't about me, it's about our children and the future of the nation. Help us continue to fight — Rush in any amount now >>>
Disney and other woke corporations won't get away with peddling their unchecked pressure campaigns any longer. If we want to keep the Democrat machine and their corporate lapdogs accountable, we have to stand together now.
-Gov. Ron DeSantis
---
Remember when Republicans were pro-business?
A 2019 study by Oxford Economics found Disney has a $75.2 billion annual economic impact on Florida, producing 463,000 jobs directly and indirectly. Since when Disney World opened, Orange and Osceola counties have grown from 370,000 people to 1.8 million.
The Tallahassee Democrat reported on the park's 50th anniversary that Disney World generated $409 million in sales tax revenue in 2018 alone.
Not a bad ROI for Florida on the Reedy Creek special district .