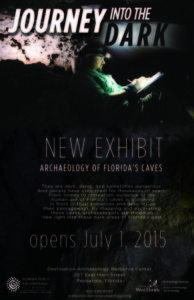 The Florida Public Archaeology Network (FPAN) opens today a new temporary exhibit titled "Journey into the Dark: Archaeology of Florida's Caves" inside the Destination Archaeology Resource Center.
The Destination Archaeology Resource Center is located on the first floor of the Florida Public Archaeology Network headquarters at 207 East Main Street in downtown Pensacola (next to the Fish House restaurant). The exhibit will be on display until the end of October. Hours of operation are Monday-Saturday from 10 a.m. to 4 p.m. Admission is free.
Exhibit synopsis:
They are dark, damp, and sometimes dangerous. And people have used them for thousands of years. From homes to recreation, the human use of Florida's caves is scattered in front of their entrances and deep inside their passageways. By mapping and excavating these caves, archaeologists are shedding new light into these dark areas of Florida's past.