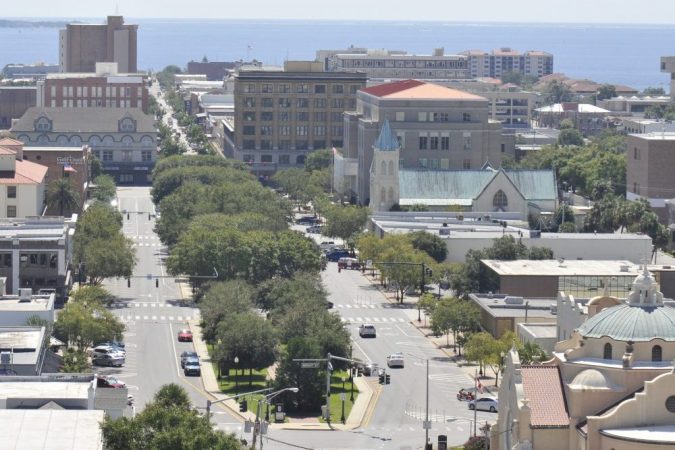 Press Release: The Downtown Improvement Board (DIB) announced today the selection of Pensacola business Spotless Logistics as its new cleaning contractor. Services include keeping downtown sidewalks and curb lines free of litter, managing weeds, removing graffiti, performing quarterly pressure-washing and reporting maintenance issues to the City.
The Downtown Cleaning Ambassadors are also an integral part of helping to create a welcoming and safe environment in Downtown Pensacola by providing directions and local information, connecting with those in need, and more.
Spotless Logistics is a minority-owned business owned by Labarian Turner.
"Commercial cleaning has been in my family for 30 years," he said. The company was founded in Pensacola in 2014 and also provides post-construction, office and medical facility cleaning.
"We are grateful for the opportunity to work with the DIB," Turner said. "We pride ourselves in our cleaning expertise, customer service and the dedication of our staff for everything they do, and we look forward to consistently exceeding expectations."

Keeping downtown clean is a big job: each year the cleaning team picks up nearly 150,000 pounds of trash, cleans 8,000 sq. ft. of sidewalks, completes more than 5,000 work orders and removes nearly 120 instances of graffiti. The DIB was seeking to move its $130,000 per year contract for maintenance and hospitality services to a local company, according to executive director Walker Wilson.
"Sourcing to local vendors whenever possible is important to us," Walker said. "Spotless Logistics has a top-notch reputation for excellence and attention to detail and we are proud to work with Labarian and his great team to continue to keep downtown Pensacola clean and welcoming to visitors, residents and businesses."

The DIB, a special district within the City of Pensacola designed to promote economic development and quality of life, consists of 44 blocks in the urban core of downtown Pensacola.
###