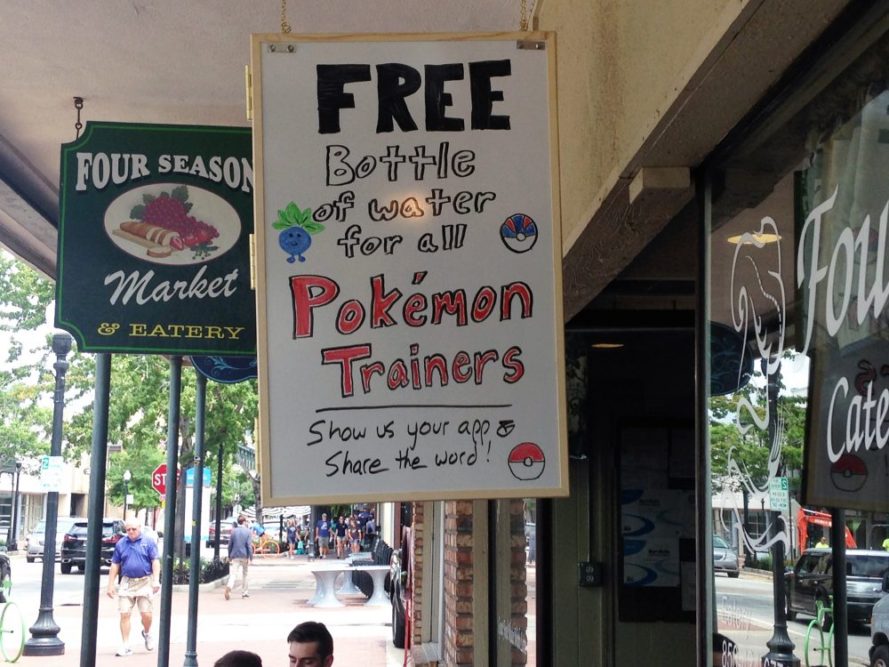 Four Seasons Catering & Eatery is the first business in downtown Pensacola to offer free drinks to Pokémon Go players. Charles Mielke and Kelly Greene, owners of Four Seasons, are convinced that giving away bottled water is a good way to keep everyone hydrated and healthy, while promoting their restaurant to people who may not have previous been aware of the restaurant and what they have to offer.
"I didn't know anything about Pokémon Go," said Kelly. "It wasn't until I started seeing people downtown, playing on their phones a lot more than they did in the past, and then someone told me they were playing something called Pokémon Go. Then, the very next day, Charles and I decided to offer an incentive to get this new community to stop in and discover what we could offer them."
Charles has also commented about the future of their Pokémon Go specials. "Giving away bottled water is just one way we can connect with the Pokémon Go community. In the future, we will continue to give special promotions and offers to any Pokémon Go players who pass by our restaurant."
The fried chicken that's catered by Four Seasons, and also served in the restaurant has been a popular hit among the locals. Charles is already planning to offer Pokémon Go players a special discount when they purchase dark meat. There are a number of special offers being contemplated for those who play the popular new Pokémon game.
Charles and Kelly did not know what to expect from their first day of launching this new special. However, Jennifer Taylor is their hostess and she announced that "approximately a dozen people came in during lunch hours and claimed their free bottles of water. And out of those who came in, everyone made an additional purchase, whether it was another drink or something to eat."