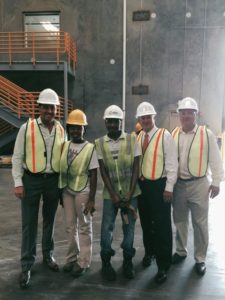 Advanced Mixed Materials Recovery Facility operated by Infinitus Energy has shutdown temporarily due to the weak market for recycled products. The facility has handled the majority of the recyclables collected by ECUA and the city of Pensacola.
The company has been looking for help from the city of Montgomery, another one of its customers. It's possible that the city of Montgomery may take control of the facility if Infinitus doesn't reopen, according to a report by the Montgomery Advertiser.
Infinitus was one of the two companies that ECUA and Escambia County were considering to partner with in building a recycling facility here.
Infinitus' Montgomery facility took over handling the city of Pensacola recyclables after West Florida Recycling closed in the spring of last year. In June 2014, Mayor Ashton Hayward and Councilman Larry Johnson toured the facility with Montgomery Mayor Todd Strange.