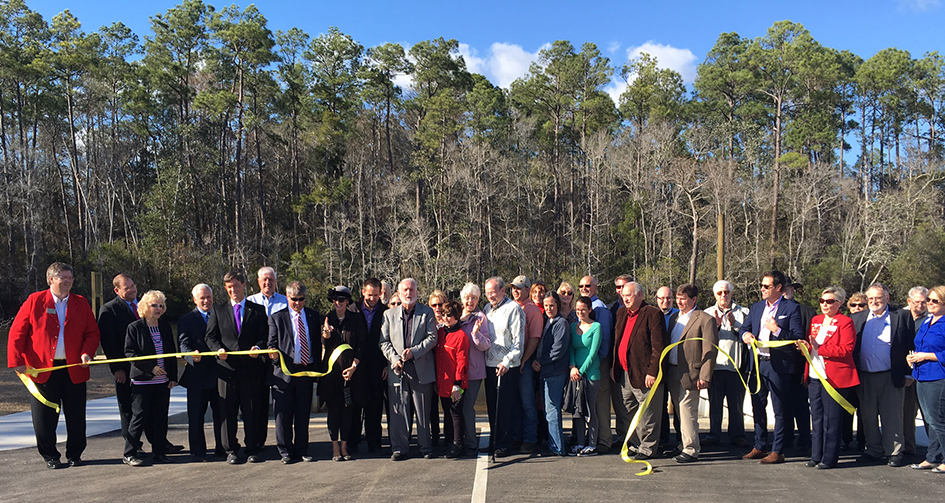 Last Friday, local, regional and state representatives gathered for the dedication of the new Wilson B. Robertson Boat and Canoe Launch, located at 11800 Mobile Hwy. The special ceremony recognized Vice Chairman and District 1 Commissioner Wilson B. Robertson for his years of service and dedication to Escambia County.
The boat ramp area, which sits on a 4.8 acre parcel near the Perdido River, features two boat ramp launch lanes, an ADA compliant dock, a paddle craft launch, 31 parking spaces for vehicles with trailers and a covered picnic table. Funding sources for the project included a Natural Resource Damage Assessment grant from the Florida Department of Environmental Protection, Escambia County Local Option Sales Tax and vessel registration fees for a total of $2.65 million.
"Fishing and boating are just some of the many recreational activities that continue to serve as great outdoor experiences in Escambia County," said Commissioner Robertson. "This new facility provides opportunities for citizens and tourists of all ages to enjoy, and I am very grateful to all of the local, regional and state partners that helped bring this project into fruition."
Organizations and partners instrumental in bringing the boat ramp project to completion include the DEP, Florida Fish and Wildlife Conservation Commission, Escambia County Board of County Commissioners, Escambia County Marine Advisory Committee, Hatch Mott MacDonald, Wetland Sciences Inc. and Roads Inc.