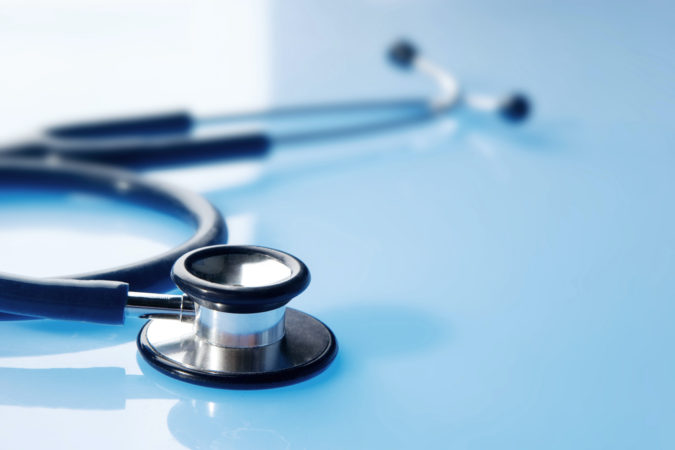 Escambia County posted the information below on its website yesterday. A flyer was posted on county's Facebook page around 11 p.m. Wednesday, March 4.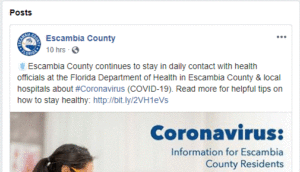 Strangely, Inweekly didn't receive an email on it….maybe we've upset someone. It's funny the first sentence says "Escambia County continues to stay" since the county administration hadn't told the public it was doing anything. Another cover-up and spin effort…sad.
Well, at least, they got into the arena.  One frog down.
---
Yesterday, Gov. Ron DeSantis announced that a fourth Florida resident has tested positive for the coronavirus but is self-quarantined in Washington state. It is the fourth case in the last four days of a Florida resident testing positive for the novel coronavirus, known as COVID-19. Three of the people who have tested positive are in Southwest Florida. Two of the individuals are self-quarantined, and a third is quarantined at Doctors Hospital in Sarasota.
During a news conference in Orange County Wednesday, the governor said the fourth person who tested positive for the virus has been in Washington and won't return to Florida until after testing negative for the deadly virus. The person had been traveling in Asia, DeSantis.
According to the Florida Department of Health website, 16 COVID-19 tests are awaiting results, and 24 people have tested negative for the virus. There are 247 people who are at risk of having been exposed to the coronavirus and who are monitoring their health under the supervision of public health officials, according to the health department. The number of those being monitored includes close contacts of the people with confirmed laboratory results and those who have returned in the past 14 days from China, where the virus began.  —source The News Service of Florida
---
From County Website: Escambia County continues to stay in daily contact with health officials at the Florida Department of Health in Escambia County and local hospitals in regard to public health concerns related to the Coronavirus (COVID-19).
The following actions are taking place:
The Escambia County Pandemic Influenza Emergency Plan will be followed if needed.
A flier about Coronavirus (COVID-19) will be posted in public areas throughout Escambia County buildings.
The county is screening 9-1-1 calls. During medical calls, dispatchers are asking if flu-like symptoms are present, and what the patient's recent travel history entails.
Fire and EMS first responders have appropriate Personal Protective Equipment (PPE).
ECAT's Fleet Maintenance team is constantly working to make sure vehicles and facilities are sanitary. All revenue service vehicles are disinfected daily.
Flu shots are covered under the Escambia County employee health plan.
The best way to prevent illness is to avoid being exposed to this virus. However, as a reminder, the Centers for Disease Control and Prevention always recommends everyday preventive actions to help prevent the spread of respiratory diseases, including:
Wash your hands often with soap and water for at least 20 seconds, especially after going to the bathroom; before eating; and after blowing your nose, coughing, or sneezing. If soap and water are not readily available, use an alcohol-based hand sanitizer with at least 60% alcohol.
Avoid close contact with people who are sick.
Avoid touching your eyes, nose, and mouth.
Stay home when you are sick.
Cover your cough or sneeze with a tissue, then throw the tissue in the trash.
Clean and disinfect frequently touched objects and surfaces using a regular household cleaning spray or wipe.
Currently persons at risk for COVID-19 include:
Someone who traveled to or from an affected geographic area* with widespread community transmission and has fever (including subjective fever) and symptoms of lower respiratory illness (for example cough, shortness of breath)
*As of 3/4/2020 countries affected include China, South Korea, Japan, Italy and Iran. Visit CDC Coronavirus Travel for updates.
Someone with close contact with a laboratory-confirmed COVID-19 symptomatic patient and has fever (including subjective) or symptoms of lower respiratory illness (for example cough, shortness of breath).
In coordination with Escambia County Health Director, if you have traveled to an area that the CDC has issued a Warning Level 3 or Alert Level 2 Travel Health Notice, or have been in close contact with an individual that has traveled to such an area, who develops symptoms of fever, cough, shortness of breath, or difficulty breathing within 14 days of such travel, immediately contact the Florida Department of Health and self-isolate until cleared by the FDOH.
If you believe you may have been exposed to COVID-19, please contact the FDOH Call Center (866-779-6121) or FDOH-Escambia's number (850-595-6500) prior to traveling to any physician's office, emergency department, hospital, or urgent care center, to ensure proper protective measures are taken to prevent further risk of spread to others. If possible, also review your signs, symptoms and travel history with your physician over the phone. Your physician will evaluate you for other possible causes of respiratory illness and also contact the county health department to access COVID-19 testing. If you are without health insurance or a health care provider, please contact your county health department so the health department can coordinate your medical evaluation and testing.
Most people with confirmed COVID-19 infection reportedly have mild to moderate respiratory illness and can be managed at home in coordination with their health care provider and local health department. Persons with severe illness may be hospitalized.
For updates and additional information, visit Florida Department of Health in Escambia County.
Track the virus by clicking here for the Coronavirus COVID-19 Global Cases by Johns Hopkins CSSE.
---
This flyer was created a little before 5 p.m on Tuesday, March 3 but wasn't on the county website yesterday morning when I posted this. According to the Facebook, the information might have been made public until late last night.