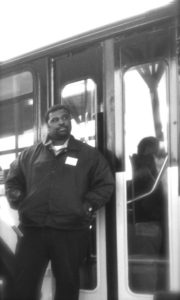 Since March, Escambia County Director of Human Relations Tom Turner has been interviewing mass transit employees following complaints about the system's management company.
"Right or wrong," he concluded in a report to county commissioners, "a large percentage of current ECAT employees are very unhappy with their situation under First Transit. The opinions are deeply seated and somewhat self-propagating."
Employees of the Escambia County Area Transit system have become increasingly vocal about their issues with First Transit, the company that took over management duties when the employees' union successfully pushed the county to switch from former management company Veolia last year.
"It is clear that the transition from Veolia to First Transit was neither smooth nor seamless," Turner writes in his report.
During his interviews, the human relations director heard from ECAT employees who were concerned about insurance and pay issues, as well as about their working relationships with middle management; much of the middle management was apparently rolled over from Veolia.
This spring, ECAT Union President Mike Lowrey requested that the county take over the operation of the mass transit system. He made a pitch for that last year as well, when commissioners ended up passing a gas tax in an effort to fully fund mass transit.
In his report, Turner states that the county doesn't currently have the staff necessary to take over operations of the mass transit system and estimates that it would cost Escambia County an additional $194,000 to assume management of ECAT. An operational analysis to determine possible savings associated with such a move has not yet been done.
The county commission will discuss Turner's findings and the future of ECAT during its Committee of the Whole meeting tomorrow at 9 a.m., at the Ernie Lee Magaha Government Building in downtown Pensacola.