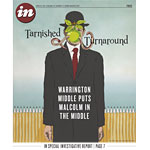 Public education in Escambia County is at a crisis level. The latest Florida Comprehensive Assessment Test scores and school grades show a very dire situation, particularly at the middle school level.
In 2009, the school year when Malcolm Thomas took office as superintendent, the Escambia County Public School District had five A schools, 1 B school and 3 C schools. Four years later, the district only has one A middle school, the magnet school Brown Barge, No B schools, 4 C schools, 2 D schools and 2 F schools. These are our future high school students so it's hard to be optimistic about graduation rates for the next seven years.
The worst middle school is Warrington Middle. Two years ago, we wrote about the problems there (Independent News, "Tarnished Turnaround," April 7, 2011). We had hoped that Superintendent Thomas and his school board would make changes to correct to what we saw as a failing initiative.
Today only one out of four of its students read, write or can do math on their grade level. Four years ago, Warrington Middle was a C school. It's now a F school.
We have to figure out this. This is bigger than Thomas and the school board. This is a community problem and it's getting worse not better.
| | | | | | |
| --- | --- | --- | --- | --- | --- |
| School Name | Reading % Satisfactory or Higher | Math % Satisfactory or Higher | Writing % Satisfactory or Higher | Science % Satisfactory or Higher | Points Earned |
| BROWN BARGE MIDDLE | 88 | 86 | 58 | 79 | 685 |
| RANSOM MIDDLE SCHOOL | 58 | 61 | 52 | 45 | 552 |
| JIM C. BAILEY MIDDLE | 57 | 55 | 42 | 55 | 512 |
| FERRY PASS MIDDLE | 54 | 47 | 37 | 48 | 507 |
| ERNEST WARD MIDDLE | 51 | 49 | 54 | 46 | 494 |
| J. H. WORKMAN MIDDLE | 49 | 41 | 46 | 39 | 474 |
| WOODHAM MIDDLE | 37 | 32 | 39 | 26 | 450 |
| BELLVIEW MIDDLE | 39 | 32 | 31 | 32 | 442 |
| WARRINGTON MIDDLE | 26 | 22 | 23 | 29 | 384 |
| | | | | | |
| | | | | | |
| | Preliminary Grade 2013 | Grade 2012 | Grade 2011 | Grade 2010 | Grade 2009 |
| BROWN BARGE MIDDLE | A | A | A | A | A |
| RANSOM MIDDLE SCHOOL | C | B | A | A | A |
| JIM C. BAILEY MIDDLE | C | B | A | A | A |
| FERRY PASS MIDDLE | C | B | A | B | A |
| ERNEST WARD MIDDLE | C | B | A | A | A |
| J. H. WORKMAN MIDDLE | D | C | C | C | B |
| WOODHAM MIDDLE | D | D | C | C | C |
| BELLVIEW MIDDLE SCHOOL | F | D | C | C | C |
| WARRINGTON MIDDLE | F | D | C | C | C |
| | | | | | |