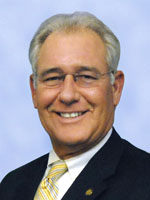 The big domino that could set off a series of political maneuvers in this election is State Sen. Greg Evers.
His district boundaries have been redrawn, and he will have to move to Santa Rosa County to run for election to his District 1 seat.
On "Pensacola Speaks" last week, Evers said he already has a house on Garcon Point that would make the move an easy one. He said he had opened a Senate campaign account, but didn't rule out pursuing other offices.
"A lot of things can happen between now and qualify, but at this point I'm opening a campaign account for the Senate, and I'm actively raising money for the Senate," said Evers. "Now that money can be transferred to another account if I decide that the folks in my district would like for me to run for another office."
Evers mentioned he might run for Santa Rosa County Sheriff or, should he decide to stay in Baker, Florida, for Okaloosa County Property Appraiser.
Stay tuned.