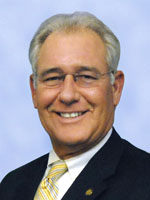 State Senator Greg Evers (R-Baker) told Inweekly that he will ask his fellow lawmakers to draw him out of District 2 and set its boundary at the Okaloosa-Santa Rosa county line.
"Right now, I'm within one mile inside my district and the line splits my little town of Baker in half," said Evers. "I plan to ask my fellow senators to keep the small towns in my district whole and do what our state constitution says."
The redistricting proposal passed by the Florida House shifts a substantial portion of northwest corner of Okaloosa County from Senate District 2, held by Greg Evers, to District 1, which is represented by Don Gaetz (R-Niceville). About the same number of people from a southwestern portion of Okaloosa will be moved to offset the shift.
If Ever's is successfully in getting his district redrawn, he will have two options:
1) He can move to Santa Rosa County and retain his seat, or
2) He can run for District 1 seat. Don Gaetz will term out of office next year. His son, State Rep. Matt Gaetz, and Bay County Commissioner George Gainer have pre-filed to run for the seat.
Stay tuned.