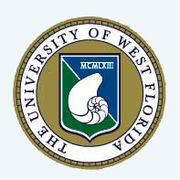 The University of West Florida and Ferry Pass Elementary held their signing ceremony this morning at 9 a.m. in the school's library. Spirits were high and there was cake too.
"This project brings together two great institutions," said Bill Evans, director of the UWF School of Education. "We can make a difference in the way we train our students."
The Partnership for Professional Innovation program was expanded to include the C graded school. Brentwood Elementary and UWF partnered in August.
UWF and Ferry Pass will work together to develop educational and social programs as well as programs for parents. A project coordinator from UWF will work with the principal and the school partnership team.
"It's really coming along," said Linda Manning, the project coordinator for Ferry Pass. "The school has great teachers and a great faculty."
This is not only a great opportunity for education students at UWF, but for the entire school district. With the project's aim at improving education inside and out, this could be the beginning for a great future.
"The goal is to be an incubator for collaboration and innovation," Evans said.
Superintendent Malcolm Thomas sees it as a "win-win" situation. He's excited that future teachers of Escambia County will have this kind of experience.
"I see nothing but winners," Thomas said. "It's relevant practice – where the rubber meets the road."
Elementary teachers certainly have their work cut out for them. Having an extra set of hands and eyes will benefit the classrooms greatly. As an added bonus, teachers at Ferry Pass have the opportunity to take classes at UWF at a discounted rate.
"It's the least we can do," said UWF President Judy Bense.
Teachers are looking forward to making sure UWF students get as much experience as they can out of this partnership. It's a task they don't take lightly.
"This partnership is going to show students, first-hand, what really goes on in a classroom," said an ESE teacher. "Teaching children is serious business."