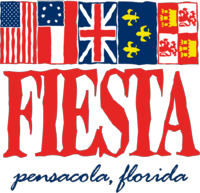 Fiesta of Five Flags is excited to announce that the 2017 Children's Treasure Hunt, presented by Zaxby's, will take place on Saturday, May 13 in East Hill's Bayview Park.
Registration and lunch are from noon-2 p.m. During that time, there will be various field day games for children and families, in addition to music and face painting. The 2017 Fiesta Children's Court will make a special appearance, along with some of our favorite local friends, Lil Zak of Zaxby's and Kazoo of the Pensacola Blue Wahoos! All families in attendance will receive FREE lunch of Zaxby's chicken or hot dogs, chips, Pepsi products and water.
The Treasure Hunt begins at 2 p.m. for children ages three to ten years old. During the Hunt, children will go to various checkpoints in order to complete their map. Once completed, every Hunt participant will go home with their own treasure.
All registers children will be entered into grand prize drawings, based upon age: 0-2 years old, 3-4 years old, 5-7 years old, and 8-10 years old, with multiple prizes per group. Prizes include: bicycles, tricycles, summer camp sessions, water activities, Blue Wahoos tickets, Sky Zone tickets, and so much more!
For more information about the Children's Treasure Hunt, please call the Fiesta of Five Flags office at (850) 433-6512 or visit www.FiestaofFiveFlags.org.
——
This year's Children's Treasure Hunt sponsors include Zaxby's, Logo Motion Marketing, Inc., Buffalo Rock Pepsi, Cat Country 98.7, News Radio 1620AM 92.3FM, Gulf Power, International Paper, Smart Bank, Bluetique, Jewelers Trade Shop, GRC Properties, On Bikes Pensacola, Waterboyz and many more personal donations from the Pensacola community.