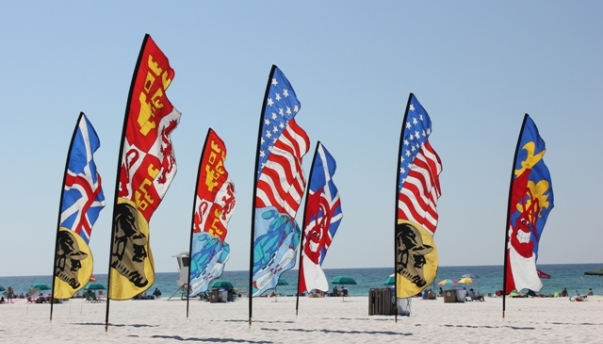 The Fiesta of Five Flags Celebration is an annual series of events to celebrate the founding of Pensacola in 1559 by Spanish conquistador, Don Tristan de Luna. DeLuna established Pensacola as the first European settlement in the United States. This celebration is one of the oldest and largest heritage festivals in the state of Florida. The 68th anniversary celebration will take place May 31 through June 9.
Emmanuel Sheppard and Condon Fiesta Days Celebration – Wednesday, May 31
Time: 7 to 10 p.m.
Location: Seville Quarter
Cost: $35 per person
Historic Seville Quarter comes alive with entertainment, decorations and delicious food in five rooms, each saluting Pensacola's history throughout the decades. With each ticket, guests receive access to the five rooms and their themed food offerings, two beverage tickets, an original custom designed 68th annual commemorative medallion and live entertainment throughout the venue.
Surrender of the City will take place at 7:15 p.m. in Phineas Phoggs. Local dignitaries such as Mayor Ashton Hayward, Police Chief Tommi Lyter, Supervisor of Elections David Stafford and Pensacola Naval Air Station Commanding Officer Capt. Chris Martin are captured by the Fiesta Forces and surrender the City of Pensacola and its citizens to DeLuna, his queen, and the Fiesta Forces for the Fiesta season.
Pen Air Federal Credit Union Fiesta Day Parade – Friday, June 2
Time: 7 p.m.
Location: Downtown Pensacola
FREE!
Come catch some beads and enjoy the beautiful floats parade through downtown Pensacola. Special appearances will be made by DeLuna LXVIII, his queen, their court, and parade Grand Marshal Rear Admiral Michael S. White, Commander Naval Education and Training Command. Join the merriment and celebrate Pensacola's rich heritage with this festive parade.
Fiesta Prayer Service – Saturday, June 3
Time: 10:30 a.m.
Location: Old Christ Church – Wright and Palafox Streets
FREE!
Begin the Fiesta celebration with the traditional ecumenical service. The public is invited to attend.
Centennial Imports Fiesta Boat Parade – Saturday, June 3
Time: 1 p.m.
Location: Pensacola Bay
FREE!
Decorate your boat and come be a part of one of the largest boat parades on Pensacola Bay. Boats depart from the mouth of Bayou Chico at 1 p.m.
DeLuna Landing Ceremony – Saturday, June 3
Time: 3 p.m.
Location: Quietwater Boardwalk, Pensacola Beach
FREE!
Under orders from King Phillip II of Spain more than 450 years ago, Conquistador Don Tristan de Luna sailed into the beautiful waters surrounding what is now Pensacola, Florida. He claimed the land he found in the name of Spain, and Pensacola became the first European settlement in the United States. The DeLuna Landing Ceremony is a light hearted parody of what might have happened with Don Tristan de Luna landed on Pensacola Beach.
Vince Whibbs Automotive Group Fiesta All Krewe Ball – Thursday, June 8
Time: 7 p.m.
Location: Hadji Shrine Temple
Cost: $35 per person
The Vince Whibbs Automotive Group Fiesta All Krewe Ball is a gala affair honoring the Mardi Gras and Fiesta monarchs as they, in turn, honor DeLuna LXVIII. The festivities include a COPAFIESTA theme with live music, Krewe skits, table decorating competition and a presentation of Krewe royalty. Tickets may be purchased at the Fiesta office.
DeLuna Coronation and Sponsors' Ball and Breakfast – Friday, June 9
Time: 7 p.m.
Location: Pensacola Bay Center
Floor Seating: Invitation Only | Balcony Seating: FREE
DeLuna LXVIII will be unmasked and crowned in a colorful ceremony accompanied by his queen and court. His presence is honored by the attendance of many former DeLunas and dignitaries from around the state.