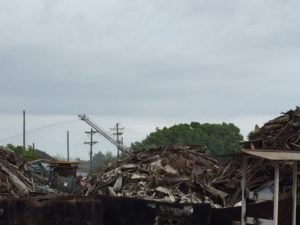 On Saturday morning, firefighters were called out to put out a fire at GSI Recycling Center, near Oakcrest Elementary School. The cause is unknown.
I talked with Escambia County Commissioner Lumon May, who was on the scene because area residents had called him. May said the piles of metal and debris were blazing. Smoke filled the surrounding area. People, as far away as Warrington, reported smelling the fumes from the fire.
GSI Recycling has been in the news. The company's owners wanted to buy the abandoned Brownsville Middle School from the School District, but Superintendent Malcolm Thomas withdrew the agenda item after hearing protests from several community leaders, including Commissioner May.
The company is also facing an environmental lawsuit from residents in the surrounding neighborhood.