Emily Lawrence, a junior at the University of West Florida, is the first recipient of the Ashley Hardaway Theriot Memorial Study Abroad Scholarship.
Emily is an exercise science major and a long-term volunteer with the Special Olympics. She is currently at Edinburgh Napier University in Scotland and is thankful for the opportunity to study abroad. Emily is looking forward to learning more about Scottish culture and to examining how physical and mental health is promoted in Europe.
From the Gulf Coast Citizen Diplomacy Council to contributors to the scholarship fund: "We think Ashley would approve, and we thank you for helping make her memorial scholarship possible."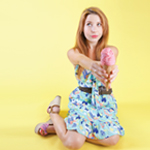 For more about Ashley, read Remembering Ashley Hardaway Theriot.