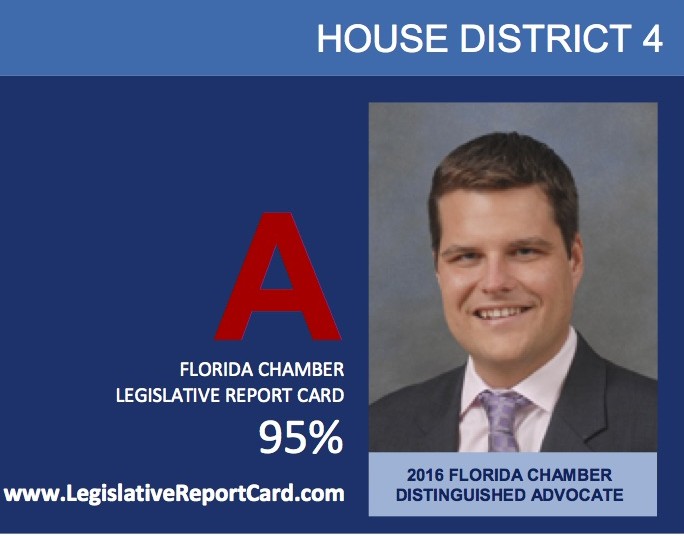 Just weeks after lawmakers ended the 2016 Legislative Session, the Florida Chamber today announced that Representative Matt Gaetz (R-Shalimar) is one of the Florida Chamber of Commerce's 2016 Distinguished Advocates for his commitment to championing pro-jobs, pro-business legislation.
"Representative Matt Gaetz developed the Florida House's $1 billion targeted tax cut package, which included Florida Chamber priorities like reducing the Business Rent tax, permanently eliminating the sales tax on manufacturing machinery and equipment and increasing the cap on Florida's R&D tax credit," said David Hart, Executive Vice President of the Florida Chamber of Commerce.
The Florida Chamber's Distinguished Advocate award recognizes lawmakers who fought tirelessly for the passage of pro-business legislation – no matter how difficult – and furthered the Florida Chamber's goals of securing Florida's future through job creation and economic development.
"The Florida Chamber has been a great partner in the effort to lower taxes for Florida's families and businesses, and I am proud to receive their Distinguished Advocate Award this year," said Representative Matt Gaetz. "I look forward to continuing to work alongside them to help create more economic opportunities for all Floridians."
Rep. Gaetz also received an "A" grade on the Florida Chamber's Legislative Report Card, also released today. To view Rep. Rep. Gaetz complete grading and district information, click here.