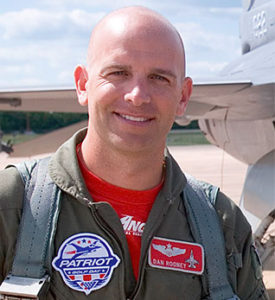 Volition America—the half marathon and 5K movement founded by Major Dan Rooney (ret.) to benefit Folds of Honor—national race series will conclude the 2015 season in Downtown, Pensacola on December 5th. The first of its kind to honor America through running steeped with patriotic distinction, this event will kick off at Veteran's Park and run through Historic Downtown Pensacola, including, one of the 10 "Great Streets in America" according to the American Planning Association: Palafox Street. Run along our bayfront, passing the historic sites to one of America's oldest settlements: the Pensacola Historic Village, T.T. Wentworth Museum, St. Michael's Cemetery, Old Christ Church, before finishing in the Vince Whibbs Martime Park.
Organized by Major Dan Rooney, the founder of Folds of Honor Foundation, Volition America is an six-city half marathon, 5K and 1.3K movement of like-minded Americans committed to exercising their remarkable power of individual choice to leave no family behind on the field of battle.
Volition America offers an event for everyone, including the 1.3K Mission March, 5K, and half marathon. The series of events appeals not only to runners, but to everyone who appreciates those fighting for America's freedom. Volition America's goal is simple: joining Americans together to raise awareness for the mission of Folds Honor, which helps provide educational scholarships to the families of military service members killed or disabled in the service of America.
Registration is now available at http://www.imathlete.com/events/EventOverview.aspx?fEID=23888 or VolitionAmerica.com. You also can stay updated with the latest information from Volition America on Twitter and Instagram by following @VolitionAmerica and by liking the Volition America Facebook page.
Major Rooney will be my guest on "Pensacola Speaks" this afternoon.
Pensacola Speaks airs on News Talk 1370 WCOA Monday-Friday from 5 p.m. to 6 p.m. You can call in and join the discussion – 850-478-3116. For iPhones and iPads, download the WCOA app from iTunes. For Androids, go to Google Play.