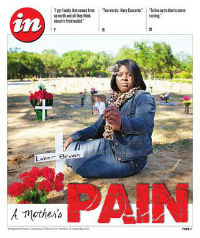 Press Release: Investigators have charged a Pensacola man with a Homicide that occurred on July 28, 2012. Bennie Robbins III, 18, was charged yesterday after investigators were able to obtain an arrest warrant charging Robbins with Homicide, Robbery and Aggravated Assault.
Matthew Cox, 19, was shot and killed by Robbins III at 4415 Deauville Way just before midnight. Investigators were able to link forensic evidence at the scene to Robbins
Specific details are unavailable at this time, but the motive appears to be robbery. Robbins is being held at the Escambia County Jail under no bond.
Cox's mother is a part of the PAIN (Parents Against Injustice & Negligence) of which we wrote in the cover story, "A Mother's Pain."