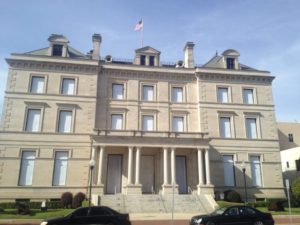 Workmen spent yesterday preparing the old Escambia County Courthouse for PaintScaping, a world leader in 3D projection mapping that has been invited to open the Foo Foo Festival with a giant 3D mapping on the façade of the iconic building that houses the Artel Gallery.
It will run for four nights, from Thursday, Nov. 6 to Sunday Nov. 9, from 7 p.m. to 9:30 p.m., on the half-hour, rain or shine. It is free, and everybody is welcome.
Los Angeles-based PaintScaping has produced 3D mappings all over the world, from Quebec City to Cancun to Cape Cod, Hawaii to Houston, Los Angeles to Las Vegas. And closer to home, Buddy Dyer, the mayor of Orlando, even proclaimed: "PaintScaping brought magic to downtown Orlando!"
"In the land of Disney and Universal, this was quite the compliment," says a proud Philippe Bergeron, President of PaintScaping. "But this is Pensacola, and it's different, and we're super-excited. Where else can you find a town that has lived under 5 different flags? That gives us a wealth of really cool things to do," continues Bergeron, a Montreal native now living in LA.
Suzanne Robbert, President of the Artel Gallery and one of the sponsors, adds: "Many people have seen 3D mappings on YouTube, but it is quite a different experience live. And even though PaintScaping has travelled all over the world, they will celebrate Pensacola's own culture!"
Indeed, the local show features the town's heritage— with a nod to Spain, France and Britain. "We're bringing back some pretty colorful characters, like Don Tristan De Luna Y Arrellano, General of the Spanish army who took over Pensacola. Unfortunately, things are not going to go too well from him," continues a deliberately mysterious Bergeron, who is also a successful actor.
Bergeron has worked with some of the biggest stars on the planet, like Nicolas Cage, Robert Downey Jr., Jodie Foster, Jamie Foxx, James Gandolfini, and Bradley Cooper, to name a few. So PaintScaping promises to bring a little bit of Hollywood to the sunshine state. "This show will be a merging of film and theater," continues Bergeron, "you'll have to come and see."
Nick Croghan, from the University of West Florida, originally contacted PaintScaping to come to the city of 5 flags. "We even invited Philippe to give a talk at the University about projection mapping, and he accepted with great enthusiasm," says Croghan. The talk is scheduled for Wednesday, November 5th, at 5pm, at the University, the day before opening night, (and the public is welcome?)
Other than that, be prepared for the world's first virtual Blue Angels show, with miniatures planes. "It's nothing you've never seen!" promises Bergeron. And what's Pensacola without a hurricane. "The building will be destroyed right before your eyes, but no need to run. Definitely the safest way to experience a hurricane," concludes Bergeron with a smile.
Bergeron, who has personally directed this show, will be in Pensacola, from November 3 to November 10, and available for interviews. He will also give a conference on 3D projection mapping, at the Artel Gallery, on Wednesday, November 5th, at 6pm. Everyone is welcome.
For downloadable video excerpts, visit: https://vimeo.com/110329270
A live preview for press only at the Artel Gallery is scheduled for 8pm on Tuesday, November 4th.
For more info, photos & videos about PaintScaping, please visit: www.PaintScaping.com
For more information about the Foo Foo Festival, please visit: www.foofoofest.com