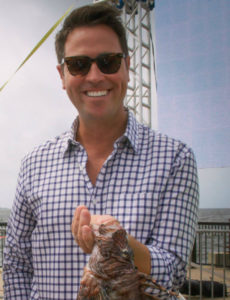 Mayor Ashton Hayward has two food events on this schedule for the week of July 6.
Tomorrow, he will celebrate the grand opening and ribbon-cutting of all the OHM Concessions at the Pensacola International Airport. Two years after the city placed the food concessions up for bid, the airport is ready to officially open all its airport eateries–Pensacola Beach House, Einstein Bros. Bagels, Freshens and Chick-Fil-A.
After the ribbon-cutting, the media and invited guests will be treated to food items from all the OHM restaurants.
WHO: Pensacola International Airport and OHM Concessions Group
WHAT: Official grand opening and ribbon-cutting ceremony
WHEN: 11 a.m. Tuesday, July 7
WHERE: Pensacola International Airport
On July 8, Innisfree Hotels will host its inaugural "Lettuce Eat" outdoor dinner in the "From the Ground Up" community garden. The project is a volunteer-driven initiative to provide fresh food and
employment opportunities to disadvantaged members of our local community.
Innisfree founder and CEO Julian MacQueen, his wife Kim and their family will host the Mayor oAshton Hayward and his family at the dinner. The City of Pensacola is a partner in the project. The garden is on city property and will ultimately be integrated into the Hollice T. Williams Urban Linear Greenway Framework Plan.
The event is being organized to celebrate the success of the first season and to raise funds to sustain the garden into the future. Participants will eat among the vines and vegetables and enjoy a farm-to-table menu prepared by Celebrity Chef Dan Dunn (from Hilton Pensacola Beach's H20 Cajun Asian Grill) with support from his chef friends like David Penniman (from Classic City Catering). Innisfree gardener, Cat McCreery will be on hand to give garden tours.
To learn more about the garden project and purchase tickets visit Innisfree's Corporate Blog.