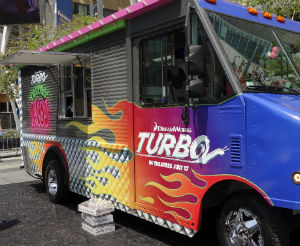 Several times over the course of the conversation Thursday evening, Pensacola City Council members noted how they'd kicked the issue of food trucks down the line for three years. Talked about how they were tired of doing so. Then they did it again.
"I hate being the typical government that just pushes things down the road," lamented Council President Andy Terhaar, as it became apparent the city's proposed food truck ordinance was stalling out.
The ordinance, paving the way for food trucks in the city and particularly downtown, was on the table for its second public reading. One step away from finality. But its language lacked the support to get the needed votes on council, leaving it to perish on a 5-2 split.
"I was hoping it'd get to a form where we could support it," Terhaar said, "but it doesn't look like that is going to happen."
The argument for and against the proposed ordinance was laid out for council by members of the food truck community and brick-and-mortar restauranteurs. While proponents painted it as something that "would add a very progressive food scene in Pensacola," opponents described the potential measure as "unfair," "unjust," "not a fair playing field" and "probably illegal."
Those hailing from downtown's established restaurants expressed concern about the lack of a buffer zone in the ordinance and said that food trucks given access to the streets would negatively impact their businesses. The sentiment was perhaps best embodied by the Mitchell family, who owns Seville Quarter.
"They're charming, they'e trendy, they can be good, serve good food, but you have to be careful to make sure it's fair for everyone— stakeholders," patriarch Wilmer Mitchell told the council, saying he was "stunned" after reading the proposed ordinance and seeing "how far it went."
"The jest of it is, the ordinance that is being considered basically gives the streets away to the trucks," Mitchell said.
The proposed food truck ordinance would have allowed the vendors to operate on city streets after purchasing a permit, except along South Palafox, from Garden Street to Plaza DeLuna. Seville Quarter is a block off Palafox and outside the exempted area.
"Does the city have the right to give away the street?" asked Buck Mitchell, before warning that food trucks would open the door for mobile salons and tattoo parlors.
Randy Russell, operator of Nomadic Eats, a food truck establishment, meanwhile described critics' fears as "kind of reaching."
"I don't think that brick-and-mortars really understand that food trucks are not that much of a threat," he said, describing mobile dining revenues as a "drop in the bucket" compared to traditional restaurants.
The proposed ordinance — passed on its first reading — found little support on council. Most members expressed concerns about the lack of protections for established businesses, pushing for a buffer zone.
"I think they'll add to the community, I think they'll add to the fabric, I think they'll add to the quality of life, however, I think we need to protect the businesses as well," said Councilman P.C. Wu, suggesting a return to a previously discussed 200-foot buffer concept.
A buffer amendment was made to the original proposal — garnering a reluctant second from ordinance sponsor Councilman Larry B. Johnson — but even that failed to get the needed votes, with council members contending the proposition "still has some issues."
"I just think that sitting here saying 'three years is too long' — I'd rather have something good," said Councilwoman Jewell Cannada Wynn.
Johnson was visibly miffed. Along with Councilman Charles Bare he has been a primary proponent of food trucks.
"I believe these folks should be allowed to participate and get their slice of the American dream," Johnson told his fellow council members.
As the prospects of actually passing a food truck ordinance began to fall apart, the councilman grasped at any branch he thought might stop the freefall. He got on board with the 200-foot buffer, he evoked Ronald Reagan and Milton Friedman, he waxed poetic about the French Quarter hot dog carts of his youth —but in the end all he could do was join Bare on the losing side of a three year effort to realize food trucks in Pensacola.
"We will never have a perfect food truck ordinance," Johnson said before the vote. "There will always be someone who has a problem with something in it. I promise you."