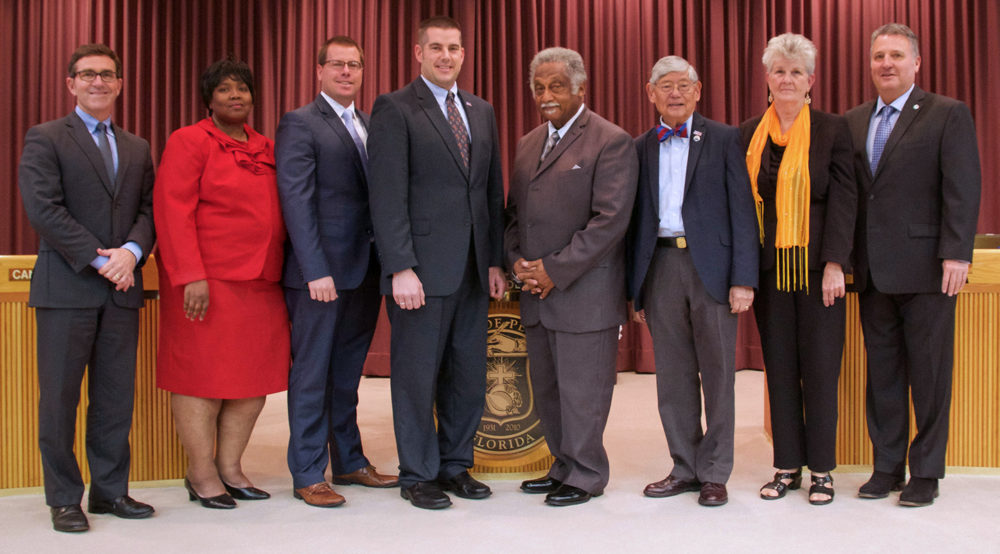 The Pensacola City Council has four seats that go before the voters this year. The incumbents have pre-filed for their seats: District 1 P.C. Wu; District 3 Andy Terhaar; District 5 Gerald Wingate; and District 7 Jewel Cannada-Wynn. Only Cannada-Wynn has an opponent, Anny Shepard.
The council will shrink to seven members, with Council President Charles Bare losing his at-large seat due to a charter amendment that passed in 2013.
If all the incumbents win re-election, Mayor Ashton Hayward will have support of a solid majority of the council for the first time since 2012. Wu, Terhaar and Cannada will join Councilmen Larry Johnson (District 4) and Brian Spencer (District 6) to form a five-person voting block that will allow for an occasional defection without losing an issue. Overriding a mayor's veto will become nearly impossible – requiring six votes. On Monday, all five voted for the mayor's nominee for fire chief, David Allen.
In the past, Mayor Hayward's supporters have failed to win contested council races for their favorites. Council President Sam Hall lost to Charles Bare in 2012, 6,331-3,223, in a three-man primary. Fellow longtime incumbent John Jerralds lost to Wingate in 2012 – with Wingate winning by 58 votes.
In 2014, Councilwoman Sherri Myers defeated Hayward-favorite Dennis Tackett, 1,370 to 1,142. Myers was bashed by Councilman Larry Johnson during council meetings, the mayor's staff anonymously ridiculed her on the web and in social media, and Tackett's campaign raised more than twice what Myers did, $20,915-$9,348. Yet she prevailed.
The qualifying period of the council and other local, state and federal races begins noon, Monday, June 20, and ends noon, Friday, June 24.