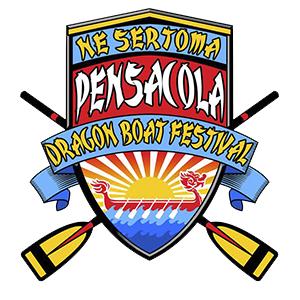 The Northeast Pensacola Sertoma Club will host the Fourth Annual Pensacola Dragon Boat Festival, presented by Wind Creek Casino, at Bayview Park on Bayou Texar, on September 9, 2017 starting at 8 in the morning.
The all-day festival benefits the Gulf Coast Kid's House (GCKH) and includes, food, drinks, children's activities, contests, music and more. Watch teams from many local businesses, civic groups and non-profits compete to take home the glory, and show who has the most spirit in Pensacola.
Each year, this festival proves that where dragons go, magic will follow. Last year Sertoma raised over $30,000 for GCKH.
This year the club has implemented a new fundraising tactic known as "Crowdfunding" to help raise even more money for GCKH. Because GCKH is a private not-for-profit organization, they are over 75-percent funded through private donations.
Each team or individual can build their own fundraising page and then share it with their personal network to help raise money toward their team goal. The team who raises the most money will receive a free entry into next year's festival. In addition, they will have awards for individuals who raise the most money through the Peer-to-Peer Fundraising Campaign.
If you have any questions, or want to know how you can get involved, please reach out to Bryan Morelock, Dragonboat Director at bwmorelock@gmail.com.