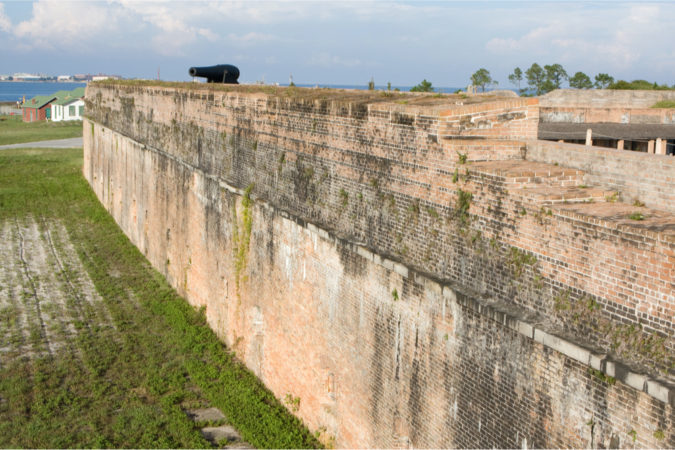 Gulf Islands National Seashore will reopen the Fort Pickens Area at 8 a.m. on Saturday, Dec. 5 under COVID-19 Adaptive Recovery Phase II operations and will resume normal winter hours. The Fort Pickens campground and group campsite will reopen by 8:30 a.m. and reservations will be honored upon reopening. On Saturday, September 12, the National Park Service (NPS) closed the Fort Pickens Area ahead of Hurricane Sally making landfall on the Gulf Coast. The hurricane caused significant damage to Fort Pickens Road and other facilities and although some repairs have been made, visitors are advised to use caution.
Immediately following the storm, park crews evaluated park roads and facilities finding a significant amount of sand and water on the roadways and areas undermined by overwash and high winds. The Eastern Incident Management Team was mobilized in response to the effects of the storm. Responders immediately set to work addressing critical needs to assess damage, stabilize facilities, and begin the process of restoring visitor access.
Additional severe weather activity along the Gulf Coast after Hurricane Sally caused further damage to the road and facilities, hindering the park's ability to reopen sooner. Park staff have completed temporary road repair to expediate the reopening process; however, long-term repair is necessary. Following a formal evaluation by engineers, the Federal Highway Administration (FHWA) has begun the process to make long-term repairs to damaged sections of the road and the Fort Pickens ferry pier. The estimated timeline for repair is undetermined at this time. Funding for repairing storm-damaged roads comes from the FHWA's Emergency Relief for Federally Owned Roads (ERFO).
Due to damage from hurricanes, the following facilities remain closed at this time:
Fort Pickens ferry pier, mine storeroom, and bookstore
Langdon Beach parking lot, restrooms, and picnic pavilion, as well as parking lot 17A
Additional closures may be necessary for visitor safety