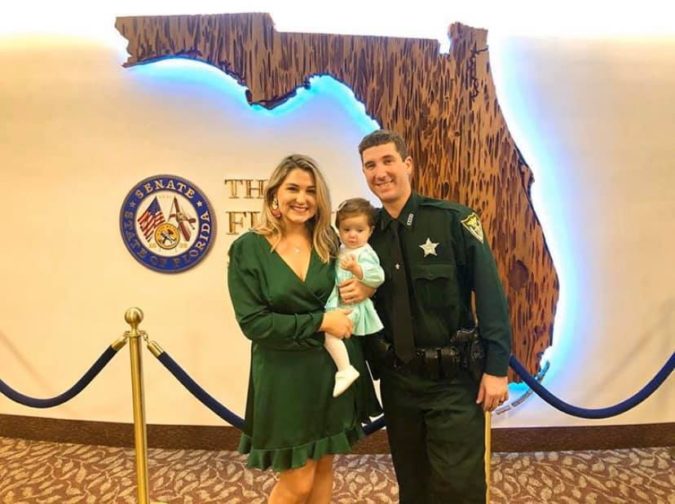 On the morning of December 6, 2019, a terrorist attack occurred at Naval Air Station in Pensacola. The assailant killed three people and injured eight others. One of those injured was Escambia County Deputy Matt Tinch.
The terrorist shot Deputy Tinch in the left knee, splitting his patella in half. Surgeons were able to screw the knee back together, but this has left Matt in a full leg brace and excruciating pain. Deputy Tinch has been and will be recovering for the next six-seven months. The recovery and time away from work has been very trying but Matt has kept his spirits high. He says that "God has given him a second chance and has blessed him with more time to see his 1-year-old daughter Estelle grow up."
Matt and his wife Jessica are beyond blessed by all of the love and support from their family, friends and community.
A somber day in our city was quickly rectified thanks to the heroism and bravery of Deputy Tinch and many others.
Odd Colony, 260 N. Palafox Street, will open its doors to everyone who wants to attend the event today from 6-10 p.m. We will also be taking donations to give directly back to the family.
The taproom will also be open to the public in which $2 from each beer sold will go directly to the Tinch Family. The donations and proceeds from beer sales will be used to help support Matt and his family in the recovery from the injuries sustained during the Pensacola NAS attack on December 6.
Live music | Lucid Lions
Live DJ | Nick Stearns
Two Birds Food Truck
If there was ever a cause to support, this one is it.
---
If you want to learn about the Escambia County Sheriff's Office response to the terrorist threat on December 6, read Fate Intervened in this week's Inweekly.