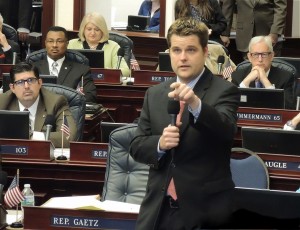 State Rep. Matt Gaetz (R-Fort Walton Beach) appeared on "Pensacola Speaks" yesterday.
The state lawmaker disagreed with U.S. Senator Bill Nelson's assessment that Syrian refugees are being fully vetted. He was one of the legislators that urged Congress to not fund the refugee program because of the security risk.
"What was most compelling to me was when the FBI director testified to Congress that we do not have sufficient policies in place to screen the number of refugees that the Obama administration wants to let in the country," said Gaetz. "One survey of about 900 of those refugees suggested that about 13 percent, or one in seven, were sympathetic to the ISIS cause."
He added, "Right now during a time of war with ISIS, I do not believe it is prudent or safe to bring in refugees that our own FBI director says we can't sufficiently screen."
When asked about Sen. Nelson's comments, Gaetz said, "Yeah, I probably would trust the FBI director more than Senator Nelson when it comes to the screening processes. This is not really something that should be decided by the politicians, it should be decided by the people that make the security decisions and if the director of the FBI says we can't take this number of refugees than that is really compelling to me."
He said, "What's notable is that we had a refugee policy where we were going to take some population of refugees, and essentially the United Nations pressured us in to taking five times more than we were expecting to take. And the Obama administration just capitulated to the United Nations rather than continuing to fight for the security of Americans."
Rep. Matt Gaetz also talked about medical marijuana, UBER and Fantasy sports.