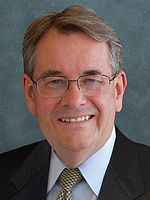 State Sen. Don Gaetz is leaving his options open on whether to run for U.S. Senate in 2016, but he isn't sure that he has the "fire in the belly" to go to Washington, D.C.
On Pensacola Speaks yesterday, the former Senate President said, "My family is all in. Matt, Erin, Vicky are all in, but I've never liked Washington."
He said, "I can't get my arms around the whole notion that Washington is place I want to be and that maybe I can make an impact. I'm not there yet."
Gaetz said that he has been contacted by several people, including the Republican Senatorial campaign committee, about running.
"It's an indication of how scrambled the eggs are in the Florida political scene with Marco running for president that people are even calling me, asking me to run for the United States Senate," he said. "With our CFO, Jeff Atwater, pulling out of consideration over the weekend, a lot of people began calling me. I've had some very, very flattering offers of support from around the state, of course as well as Northwest Florida."
He admitted that a U.S. Senate campaign has its challenges. "I'm not well known outside of Northwest Florida, I'm sure, but neither are the other people being talked about for this race. I think it's wide open, it's anybody's race. It would take a lot of money in a hurry in order to make an impact and get name identification up."
However, he hasn't said he won't run. "We're going to take a few days in our family, among our friends and people I care about a lot and talk about. All I've agreed to do is not say "No" until people can make their case to me."
In the end, Gaetz will have to determine if the fight is worth for him and his family.
"You would have to have a fire in your belly to go to Washington and that's what I've got to decide."