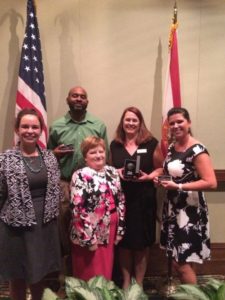 New FCSS President Is From ECSD: The Florida Council for the Social Studies (FCSS) Conference was held Oct. 2 – 4, 2015 in Kissimmee, Florida, where Cherie Arnette, SS Curriculum Specialist K-12 for ECSD, was installed as State President.
In addition, Christopher Harris of Washington High School, and Cyprienne Gryskiewicz, formerly of Woodham and current SS Instructional Coach for ECSD, were recognized as Escambia county's SS Teachers of the Year.
Tate High School teacher, Robin Blalock was honored with the J. R. Skretting Outstanding Leadership Award for her work on the Conference Committee and installed as District 1 Representative for FCSS.
Mrs. Blalock and Lauren Samoszenkeo, Ransom Middle School teacher, presented a session entitled, "Couriers of Memory: Teaching the Holocaust Using Survivor Testimony."
Cherie Arnette, SS Curriculum Specialist K-12 along with colleagues Peggy Renihan of PAEC and Maureen Carter of Palm Beach County, presented a session entitled, "Upstanders and Bystanders: Investigating Modern Social Responsibility Using History" examining strategies and tools for teachers and students to make positive choices when faced with injustice.
Molino Park Elementary Benefit Concert
Molino Park Elementary School is partnering with the Gulf Coast Steinway Society to present a performance by Kadisha Onalbayeva to benefit the school's music program. The performance will be held Sunday, October 18, at 6:00 p.m. at the Highland Baptist Church. The performance will include a special performance by the children who attend Molino Park Elementary School.
The Gulf Coast Steinway Society is a non-profit organization formed by Steinway Artist Dr. Kadisha Onalbayeva, Steinway & Sons NYC, and other individuals united in their devotion to strive to promote fine music through education and piano performance along the Gulf Coast of Alabama, Mississippi and Florida.
There isn't a set admission price. Instead, donations will be welcome and will support the music program at Molino Park Elementary School.The Highland Baptist Church is located at 62400 County Highway 95A, Molino.
For more information about the Steinway Society, visit their web site at www.gulfcoaststeinwaysociety.org