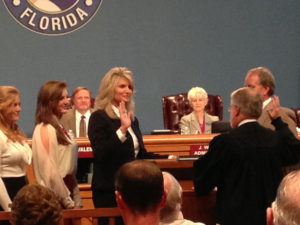 Prior to yesterday's county commission meeting, Pam Childers was welcomed aboard with an oath of office ceremony. Childers recently began her term as Escambia County Clerk of Court.
The new clerk won her office by beating longtime county fixture Ernie Lee Magaha, who held the office since the late 1950s. Childers was joined by her family for the oath of office ceremony.
Earlier in the day, during the commission's work session, Childers told Chairman Gene Valentino she would be working to ensure the county was receiving all the money it was due.
"Not investigations, per se, but follow up where there should be other revenues," Childers said.
"You mean revenues to go after?" Valentino asked. "Missed revenues?"
"Absolutely," Childers replied.