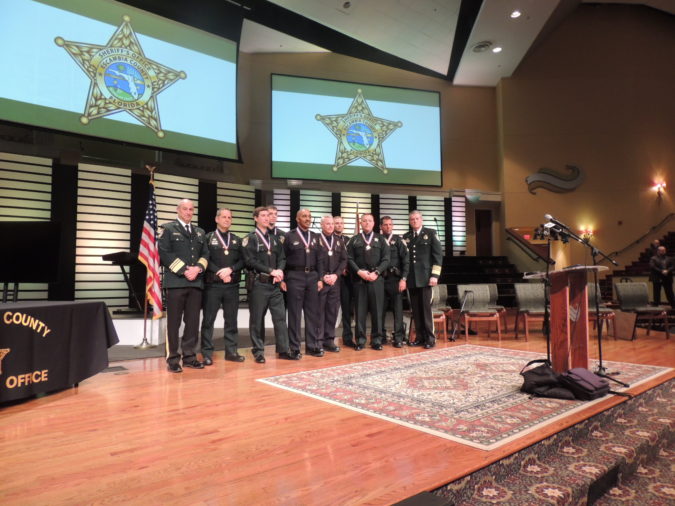 Gov. Ron DeSantis wasn't able to attend last Friday's special ceremony to honor the law enforcement officers who confronted the shooter in the terrorist attack at NAS Pensacola in early December. However, State Rep. Alex Andrade delivered a letter from the governor, which Sheriff David Morgan read.
"On behalf of the state of Florida, thank you for the incredible courage you demonstrated during the NAS Pensacola shooting on December the 6th, 2019. As a veteran of the United States Navy, this tragedy hit especially close to home.
"This senseless act of violence strikes at the heart of our nation, and the lives lost on that horrific day will never be forgotten. Casey and I appreciate your service to our state and to the Pensacola community. Lives were saved that day thanks to the quick and efficient response from the NAS Pensacola Police Department and the Escambia County Sheriff's Office. The selfless decisions you made that day demonstrate your incredible strength and character, and we are proud to call you and Florida home.
"As the home of the Blue Angels, NAS Pensacola is important to the identity of our state. We will continue to stand with NAS Pensacola and Escambia County in the days and weeks to come. Again, thank you for your outstanding and unwavering service to our great state. You have my best wishes in our continued safety and success."
Sincerely, Ron DeSantis, Governor.