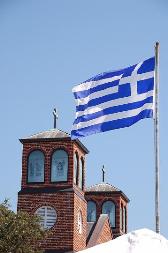 Press Release: The Annunciation Greek Orthodox Church of Pensacola is preparing for the 55th annual Greek Festival.
The Pensacola Greek Festival is one of the Pensacola Bay area's signature festivals mixing southern hospitality with Hellenic culture and cuisine. Live Greek music, youth folk dancing, and church tours make 1720 West Garden Street the place to be during the second weekend in October.
The 3 day cultural event provides an opportunity for the Pensacola Greeks to share their heritage, culture and faith with the local community. The event is held on the church grounds at 1720 West Garden Street under large tents and features a variety of delicious Greek dinners, sandwiches, coffee, desserts, drinks, and shopping in the Greek Market.
Hours are Friday from 11am- 10pm, Saturday from 11am- 10pm, and Sunday from Noon – 6pm. As always, admission to the festival is free.
Sponsorship opportunities are available for individuals and businesses. Visit our website for more information on how to become a sponsor. We do not offer vendor booths for selling merchandise. Our advertisers are recognized in the program booklet, with banners at the festival and on our website all year long.
The following businesses have committed to being sponsors for the 2014 Festival.
Angelo's Auto Parts
Faith Chapel Funeral Home
S&D Coffee and Tea
Servis First Bank
Volunteers are welcome to assist in pre-festival food preparation. We have work days scheduled this weekend (Jul 19th Pastistio) as well as Huly 24 and 26 (Pastitso) and August 18 and 19 (Pasta dessert). Additional dates will be posted on our Facebook page as they are scheduled.
We have posted photos from the 2013 festival on our website. http://www.annunciationgoc.org/GreekFestival2013Album/.
For more information:
Visit the festival website at http://www.PensacolaGreekFestival.com
Call the church office at 850-433-2662
Email the Communications Chair (gogreek@pensacolagreekfestival.com)
Follow the Greek Fest on Facebook (facebook.com/PensacolaGreekFestival)
Subscribe to email list on the website
Follow us on Twitter (@PcolaGreekFest)