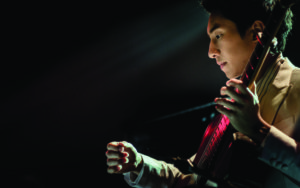 Press release: Acclaimed classical guitarist Ekachai Jearakul performs at Pensacola State College at 7:30 p.m. Saturday, Sept. 26, at the Ashmore Fine Arts Auditorium, Building 8, on the Pensacola campus.
Hailed as one of the foremost guitarists on the international scene, Jearakul became the first Asian guitarist to win the Guitar Foundation of America's International Concert Artist Competition in 2014. This prize entails a 50-city concert tour in North and South America, including a Carnegie Hall debut in New York City.
Jearakul has performed for royalty in his native Thailand and is known for his extraordinary talent that appeals to a global audience.
In 2013, he was named a Yamaha artist and has earned 12 first-place prizes at prestigious international guitar competitions in Europe, Asia and North America. He has performed solo and with symphonies in more than 16 countries including England, Germany, France, Spain, Greece, Russia, Korea, China, Mexico and the United States.
Tickets are adults, $11; seniors 60+, children and non-PSC students, $9; PSC staff/faculty/retirees and PSC Seniors Club members, $7; PSC students with current college ID, one free ticket.
Purchase tickets online at www.pensacolastate.edu/lyceum or at the Lyceum Box Office, Building 8, Room 861, from 8:30 a.m. to 4 p.m. Monday – Friday. Tickets are also available at the door, one hour before a performance.