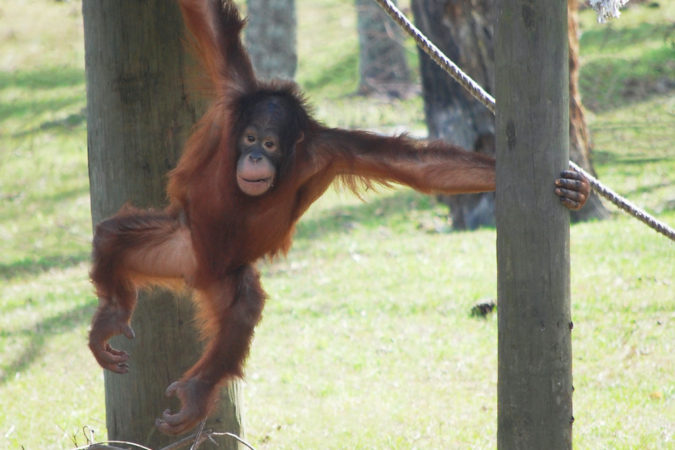 In January 2019, the Gulf Breeze Zoo added a family of Orangutans and started their "Spirit of Sumatra" conservation program. Recently, the Zoo received high honors from the Zoological Association of America (ZAA) and was awarded the 2019 In Situ Conservation Award for their significant contribution to saving critically endangered Orangutans in the wild.
The Spirit of Sumatra project supplies financial support to wild forest conservation, and Zoo education and breeding programs. CEO Eric Mogensen recognized the need for long-term goals focused on the survival of biodiversity and partnered with the Sumatran Orangutan Society to help purchase 890-acres of palm oil plantation. The property, located on the edge of the Gunung Leuser National Park, provides a critical buffer zone to minimize human-wildlife conflict. This Park is the last remaining location where elephants, rhino, tiger and orangutan are found together in one area.
Once the property was secured, the Gulf Breeze Zoo orangutans and staff held a conservation fundraiser with artwork handpainted by the Zoo animals. This fundraiser raised enough to build a field station and a tree nursery on the new property in Sumatra. This new center will allow the field team to grow more young trees and restore the property into proper jungle habitat. The Gulf Breeze Zoo is excited to support its partners in the field and remains dedicated to saving orangutans, their forests, and their future.
The national ZAA award is given only to institutions making a dramatic difference in the conservation of a species in their natural habitat. Zoo Director Jean Benchimol, says "The Zoo's success is a reflection of the support we receive from our community. We are grateful to share this recognition with our partners." The Zoo invites visitors to celebrate this exciting achievement on January 25th with cake for the first 200 guests, special treats for the Orangutans, and presentations about conservation, all on the boardwalk overlooking Orangutan Island.