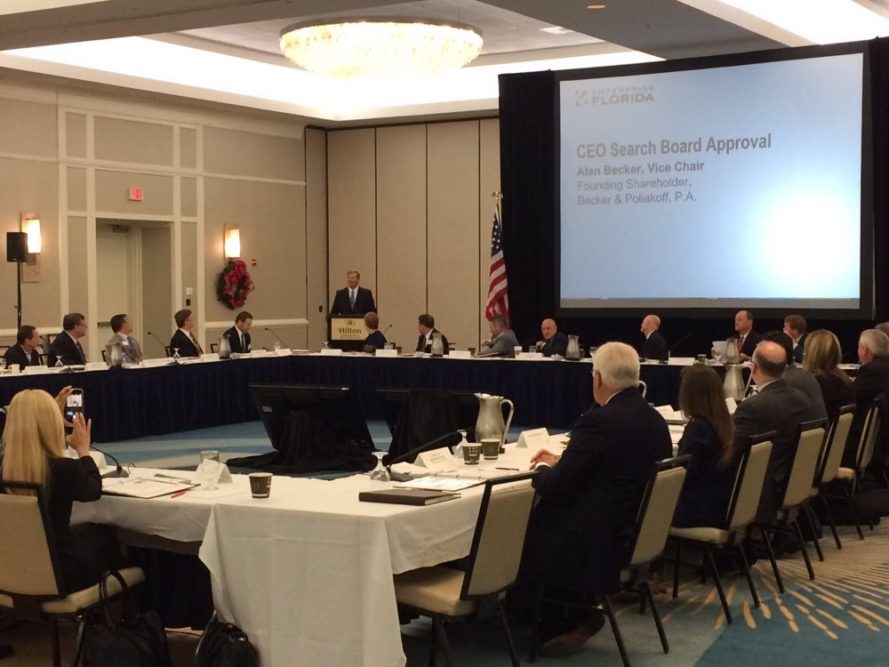 Enterprise Florida, Inc. (EFI) Board of Directors today unanimously approved the hiring of Chris Hart IV as the new President & CEO of Enterprise Florida at its quarterly Board of Directors meeting in Miramar Beach. He will begin his new role with EFI on January 3.
Governor Rick Scott, who serves as Chair of the Board, said, "I am proud that Chris Hart has been selected as the new President and CEO for EFI. Chris has hands on experience building a business, growing a company and making sure families have opportunities to live the American Dream. He also understands the incredible impact a job can have on a family and the need for EFI to make job creation the number one priority. As President and CEO, I know Chris will immediately get to work to return EFI back to its core mission of creating jobs."
Hart most recently served as President & CEO of CareerSource Florida, the nonprofit, public-private organization charged with policy-setting and oversight of Florida's workforce system.
"I am excited to be a part of the EFI team, working for a Board that has a great understanding of the mission of this organization," said Hart. "My goal is to continue driving Enterprise Florida toward making our state the leading economy and number one location for job creation in the nation."
Hart has served as the Interim Director of the Governor's Office of Tourism, Trade and Economic Development (OTTED), was the Senior Vice President of External Affairs and Investor Relations for EFI, and served in the Florida House of Representatives for two terms. He currently serves on the boards of the Florida Chamber Foundation, the Institute for Human & Machine Cognition, the Florida Research Consortium and ITFlorida. He earned his Master of Business Administration from the University of South Florida and holds a Bachelor of Science degree from Florida State University where he majored in Political Science.
EFI Board of Directors Vice-Chair Alan Becker said, "Chris is the right person at the right time. We are working with companies to create a record number of great jobs and Chris knows what it takes to continue the momentum and build on our success."
"We are excited to have someone with Chris Hart's skills, qualifications and experience coming on board to lead Enterprise Florida," said Stan Connally, EFI Board Vice-Chair Elect. "I'm looking forward to seeing him engage all of our stakeholders quickly as we continue to make Florida #1 for business."
"Enterprise Florida and our entire state achieved a great win today with the selection of Chris Hart IV to lead Florida's principal economic development organization," said CareerSource Florida Board Chairman Britt Sikes. "During his tenure as the president and CEO of CareerSource Florida, Chris has worked tirelessly to help Floridians and businesses achieve prosperity. On behalf of our Board of Directors, we applaud the Enterprise Florida Board's choice and look forward to an even stronger partnership."