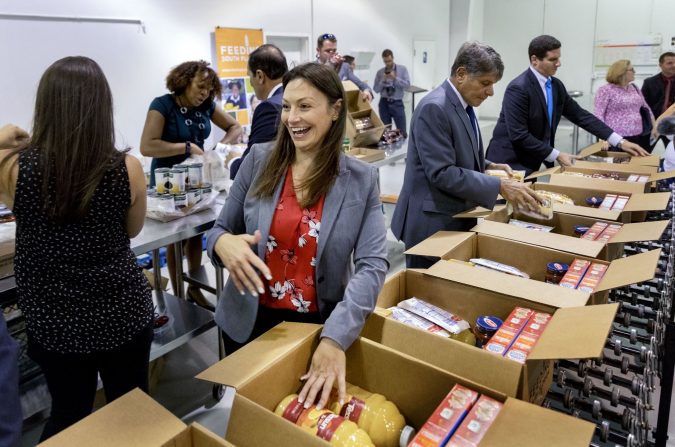 Today, in response to a report that the Florida Department of Children and Families (DCF) has applied for summer funding from the Pandemic Electronic Benefit Transfer (P-EBT) program, Florida Agriculture Commissioner Nikki Fried issued the following statement:
"For months, I have advocated for DCF to apply for the $820 million that is available in federal summer nutrition assistance. DCF and the Governor's office have repeatedly asserted that this funding, which would provide $375 per child to qualifying families, was not needed.
"Because they made it clear they did not have any intention of applying for the program, I directed the Florida Department of Agriculture and Consumer Services Division of Food, Nutrition and Wellness to take initiative for DCF and complete a draft application for the Governor to complete and submit to USDA. Yesterday afternoon, that draft was sent to DCF.
"Late last night, my office was notified by a reporter that DCF 'has been working on' a draft of their own. That statement was used to make the assumption that DCF has applied for the funding. Unfortunately, as of the time of this press release, my office and our federal partners have been told that no application has been submitted for the summer P-EBT funding from our state.
"I hope that DCF will complete the application soon, although I'm still appalled that it has taken Governor DeSantis this long to do something so simple that will help feed so many hungry kids in our state. I will continue to relentlessly push for this application to be completed and submitted to USDA, and I sincerely hope that we can work with the Governor's office to apply for the available P-EBT funding for the current school year."
Background: In Florida, the P-EBT program is administered by DCF in partnership with the Florida Department of Agriculture and Consumer Services (FDACS). FDACS does not have the authority to apply for the funding on its own because DCF is the lead agency, but FDACS needs to sign off on the application before DCF can submit it to USDA for approval. FDACS administers a separate supplemental summer nutrition program, called Summer BreakSpot. On average, the Summer BreakSpot Program serves between 14 and 16 million meals per summer to children across Florida. This past summer, the program served over 18.5 million meal and added more than 1,400 additional meal sites across the state. It is official USDA policy that summer food assistance programs have difficulty addressing the full extent of need and gaps remain – which is why the additional funding from the P-EBT program is crucial.