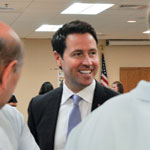 Press Release: Pensacola's City Council will be taking up a handful of initiatives sponsored by Mayor Ashton Hayward aimed at cleaning up blighted properties and improving local neighborhoods, at the September 6th meeting of the Council's Committee of the Whole.
The initiatives include approving the sale of the former Blount School, which Hayward announced last week with Sheriff David Morgan.
Funding for the building's purchase will come from Federal Community Development Block Grants, but the Council must still approve the transaction.
Hayward said he looked forward to the Council's approval of the purchase so demolition of the structure could commence later this fall.
"I appreciate the Council's support of our clean-up initiatives, and this one more opportunity for us to make the City a better place for residents and businesses," said Hayward. "Approving this sale will allow us to take ownership of that property and start tearing down that eyesore and give those residents and neighbors some relief."
In addition to the purchase of the school building, the Council is also expected to take up two additional neighborhood measures. One measure tightens the regulations on business signs, including stiffer fines for businesses that do not comply with City signage laws. The second allows neighborhoods to post "no solicitation" signs to restrict door-to-door sales and panhandling in certain residential areas.
Hayward said these initiatives were part of an ongoing effort to clean up Pensacola's neighborhoods. "These two measures, by themselves, may not seem like a lot, but combined with the other things we are doing in code enforcement and neighborhood improvement, will go a long way to help our residents take charge of their neighborhoods."
"The single biggest issue I hear from citizens is making sure that our city and our neighborhoods are safe and clean, and so we are looking at all options – from big ones like tougher code laws or tearing down dilapidated buildings, to smaller ones like sign restrictions. But make no mistake, little by little, we are cleaning up Pensacola, and I look forward to the Council approving these measures," said the Mayor.