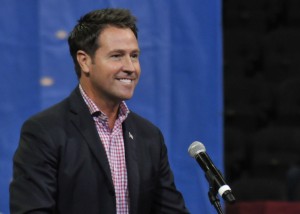 Pensacola Mayor Ashton Hayward said this afternoon that he's optimistic about the possible sale of the Emerald Coast Utilities Authority's downtown property to Texas-based HT Land Co.
"As of right now, it seems like a good deal," Hayward said.
The Texas company has made a second offer to the ECUA for the 19-acre property.  The offer remains at $7.6 million, but also includes an escrow fee of $150,000, with $50,000 of that being non-refundable.
Following the ECUA board's rejection of the initial offer, some Pensacola City Council members expressed concern about the prospects of the land—a key parcel in the downtown landscape—being sold to a developer who could stray from the city's aesthetic vision for the area. Councilman Brian Spencer said that HT did not give him "a warm-fuzzy feeling."
During that discussion, a real estate broker representing HT Land Co. assured council that the development would not conflict with design standards laid out in the Maritime overlay district. ECUA Executive Director Steve Sorrell this morning described the plans as "a beautiful proposal" that included retail, residential and a hotel; he also said that the city's planning department had written a letter confirming the plans did not conflict with city standards.
Hayward said this afternoon that city staff had gotten a look at "conceptual renderings" of the proposed development and that the plans "look great on paper."
"What I know as of today is they really want to work with the city of Pensacola and the ECUA," the mayor said.
The 19-acre parcel of property was formerly ECUA's sewage treatment facility. The facility was demolished in 2011.
The property lies along a downtown corridor. It is next door to Pensacola City Hall and across the street from the Community Maritime Park.
Hayward said he wants to see the property developed in line with the city's vision for the downtown area. He pointed toward the Maritime overlay district as useful in guiding such growth.
"We want the fabric of the city going west looking like everything else we want to achieve in the city of Pensacola," Hayward said.
The ECUA board will discuss HT's second offer during its meeting on Thursday.