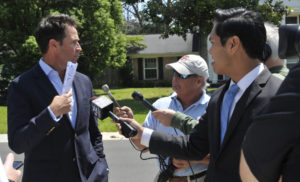 As better weather sparkled across the freshly laid blacktop, Pensacola Mayor Ashton Hayward thought back to last year.
"I can remember Chief Simmons picking me up and driving through the city," Hayward said. "When I showed up on Piedmont it was like a river running through it."
On the first anniversary of the historic 2014 floods that wreaked havoc last April, the mayor took what the city billed as a recovery tour — making the rounds to discuss the city's post-flood progress. He stopped by BLAB TV's "Daily Brew," as well as a flood-related project site on Piedmont Road and the Airport Regional Stormwater Project site.
Speaking to reporters on the corner of Piedmont and Drake — where the flood washed out the road, sending it into Bayou Texar — Hayward talked about work the city had completed thus far and projects yet to come. He talked about dissolving egos and collaborating with Escambia County, how infrastructure was being repaired to "bigger and better" standards, and about how "we have to be patient with FEMA."
According to the city, preliminary storm damage in Pensacola comes to about $17.6 million. The city has spent almost $6 million so far, with just over a million of that having been reimbursed.
The remainder of the funding needed is being sought from grants, both from FEMA as well as the U.S. Department of Housing and Urban Development's grant offered through its National Disaster Resilience Competition.
"We have to get these dollars to bring these efforts to reality," Hayward said, later adding, "You have to chase every dollar that's out there to pay for these solutions."
The mayor noted that the city may also need to look at upping the amount it charges citizens each year in the way of its stormwater management fees.
"No one wants to raise fees," Hayward said, "[but] it's a conversation we might have to have with our citizens."
While the anniversary recovery tour was mostly a recap and update of previously available information, the news nugget to emerge during the mayor's stop on Piedmont was the closing of the community center at Bayview Park.
"What I've heard recently is that they're recommending going ahead and tearing the Bayview community center down," Hayward said.
"It's probably outlived it's usefulness," added Derrick Owens, director of public works.
The community center is currently being assessed for asbestos and lead paint. Demolition is expected to take place by the end of summer.
Hayward noted Bayview is a popular park for the city — "it's like our Central Park" — and said that in the near term at least there were not plans to rebuilt the community center.
"Well probably leave it a passive area right now," he said, "and we'll see what we do."