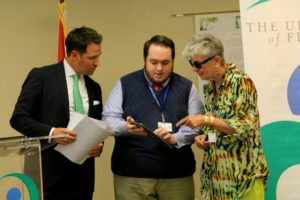 In his latest "Upwords" newsletter, Pensacola Mayor Ashton Hayward said that his Constituent Services team, the group that manages the city's automated citizen complaint system (Pensacola 311), recently visited 311 operations in New York and Washington, D.C.
The system was launched four years ago. Two years ago, it was updated and an smartphone app was launched. According to the mayor, the system has handled 20,000 citizen requests since its inception, an average of 5,000 a year.
"The platform has grown from a simple phone line to include a powerful mobile app and interactive web interface where you can track your issue step-by-step until it's resolved," wrote Hayward. "In addition to serving our citizens, 311 is an incredibly powerful tool to provide my team and City Council members with the data we need to make decisions, improve efficiency, and better serve our constituents."
He said his team is exploring new options to improve the 311 system — "including implementing multilingual support and using social media even more to communicate directly with citizens about their issues."
To access the system, simply dial 311, visit Pensacola311.com, or download the "Pensacola 311" app from the App Store (iPhone, iPad) or Google Play Store (Android).