city press release: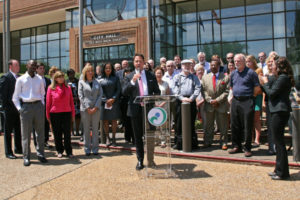 Pensacola Mayor Ashton Hayward announced this afternoon that Navy Federal Credit Union and Pen Air Federal Credit Union have signed on to join Common $ense Pensacola, his financial literacy initiative.
The two credit unions join Wells Fargo, Regions Bank, Hancock Bank, SunTrust Bank, and Bank of America in the partnership which Hayward established in December to promote financial literacy through practical money management skills. The organizations meet monthly with the Mayor and his staff in a roundtable setting to develop outreach strategies.
"I'm proud to welcome Navy Federal and Pen Air to this important partnership," said Mayor Hayward. "They're both great companies, and we're excited to have their help in building financial literacy and practical money management skills throughout the community."
Hayward also highlighted the success of the Voluntary Income Tax Assistance (VITA) program, funded in part this year with a $10,000 donation made by Wells Fargo in support of the Mayor's initiative. The VITA program, operated locally by United Way of Escambia County, provides free tax preparation assistance to low-to-moderate income families. Due in part to the donation, the VITA program has had its most successful tax season ever, with area residents receiving more than $2.8 million in total refunds. Seventy-five percent of total refunds were directly deposited their refunds with financial institutions rather than processed by payday lenders and check-cashing companies who often take a large percentage of the refund.
"Because of this program, our citizens have been able to keep and save more of their money because they're not paying hefty fees to cash their refund checks," said Mayor Hayward. "I want to thank United Way and all of their volunteers as well as Wells Fargo for supporting this program and our efforts to boost financial literacy."
The VITA program assisted 2,019 area families during this year's tax season, saving residents an estimated $222,090 in tax preparation fees.
Mayor Hayward was joined by Stephanie Chin, Manager of Income Capacity Building for United Way Worldwide, as well as representatives from United Way of Escambia County, the Florida Prosperity Partnership, and a number of the financial institutions participating in the Mayor's financial literacy initiative.
"Since we started the program 7 years ago, United Way volunteers have grown this free service over 370% from serving 437 households to 2,019," said Andrea Krieger, President/CEO of United Way of Escambia County. "At a time when families need to retain every dollar possible, the over $900,000 in earned income tax credits are a great addition to the $2.8 million which volunteers helped return to our community.  We are honored to be a partner in creating financial stability for our community."