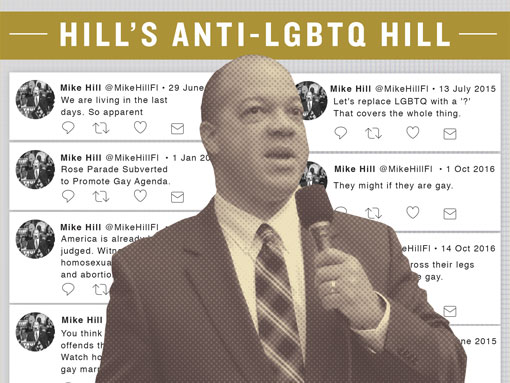 After being called "fake news" for two weeks by the state lawmaker and his supporters, Inweekly has picked up an unlikely new fan–Rep. Mike Hill.
The District 1 representative is using an Inweekly/Political Matrix poll to raise funds for his campaign. He even links to this blog.
---
Dear XXX,
I'm honored to serve in the Florida State House, and I look forward to continue working with leaders like you across the state to support free-market policies, to preserve the consumer-client relationship and to ensure care for all Floridians.
On June 17th, 2019 a InWeekly/Political Matrix poll of 450 likely Republican voters in State House District 1, found that 52.4 percent would re-elect me today.
If the election were held today, would you vote to re-elect Mike Hill as your State Representative?
| | | |
| --- | --- | --- |
| Responses: 450 | Total | Overall % |
| Yes | 236 | 52.4% |
| No | 101 | 22.4% |
| Undecided | 113 | 25.1% |
We're now just months away from decision time in the State of Florida and our Country. You've stood beside me and it's time for us to build a dominant campaign operation.
Meanwhile, my incredible team is rapidly growing. We have received tremendous voter support from Pensacola to Key West and everywhere in between.
Will you help me now with a generous contribution of  $500 or $1000? You can mail your contribution to "Mike Hill Campaign", PO Box 16388, Pensacola, FL 32507.
Let's Work Together
---
The same poll also found only a third of the Republicans in his district agree with Hill on his ultra-conservative positions on abortion and discrimination protection for the LGBTQ community.
I address Mike Hill and his political spin in this week's "Outtakes–Fake Lawmaker."