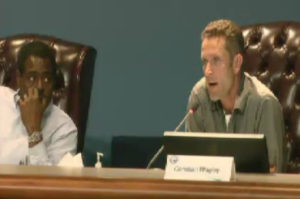 The Escambia County RESTORE Act Advisory Committee heard from the Greater Pensacola Area Chamber of Commerce this week and got a feel for the organization's preferences for spending Clean Water Act fines resulting from the 2010 oil spill in the Gulf of Mexico.
Chamber CEO Jim Hizer listed two "game-changers" he said the area needed to focus on in an effort accomplish economic development goals. He suggested concentrating on workforce development and "shovel-ready sites."
"If we want to be competitive, if we want to take our community up another notch, in terms of economic development, we have no choice," Hizer said.
The chamber executive told the RESTORE committee that Florida lagged behind nearby states in both of these areas. Particularly, in shovel-ready sites for industrial parks.
"Developing shovel-ready sites is a huge step in the right direction," Hizer said.
Citing the chamber's Vision 2015 study, Hizer said between 500 and 600 acres of shovel-ready sites would be needed to properly court the hoped-for Airbus subcontractor market; he estimated the cost of such an undertaking at between $40 and $60 million.
RESTORE committee member Christian Wagley raised concerns about using public money to incentivize private development. Hizer said the chamber felt that such arrangements worked better if businesses received incentives on the "backend," after fulfilling the commitment to the community —usually in the form of jobs.
"But in the case of creating a shovel-ready site, with infrastructure, that's entirely an up-front subsidy, is it not?" Wagley asked.
"No question," Hizer said.
"And you're talking about tens of millions of dollars," Wagley continued. "Far more than a company probably gets in terms of a direct subsidy for creating a certain number of jobs, at a certain income level."
"No question," Hizer told him. "But the reality is, we won't be competitive if we don't do these things up front."