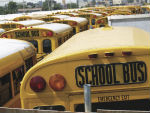 I interviewed yesterday Bill Emerson, Assistant Superintendent for Curriculum, Instruction and Assessment for the Santa Rosa County Public School District, about the School Environmental Safety Incident Report (SESIR) and how his schools report incidents to law enforcement.
"The way we view it is there are two things that happen when a kid gets into trouble," said Emerson. "The first responsibility we have is to investigate regarding the school's involvement. If that investigation leads to a possible violation of the law, then we notify law enforcement and then it's their case.
"We're not trying to decide if it's legal or illegal. If we think it's on the line, we notify law enforcement. They come in and make that judgment."
Based on the SESIR report from the Florida Department of Education, the Santa Rosa County schools reported in the 2009-10 school year over 86 percent of its campus crime and violence to law enforcement. For the more serious incidents, the reporting percentage to the law was 92 percent. Escambia County only reported 32 percent to law enforcement, 38 percent of the more serious types of incidents.
Escambia County School Board member Jeff Bergosh didn't respond directly to my email for his opinion of the WMS article (Tarnished Turnaround). Instead, he wrote on his blog that the IN was "hurling new allegations our way that are incorrect regarding protocols for SESIR reporting." He wrote that special board meeting has been set for April 14, 3 p.m. to prove the paper wrong.
"I can say that to the best of my knowledge on our campuses if crimes are committed and discovered–these crimes are reported, that is the law and it aligns with our school board policies on reporting of such incidents," wrote Bergosh.
The paper never said the district's "protocols" were incorrect. It questioned why the Escambia only reported 2 out of five incidents to the law. Either Escambia County is too lenient or Santa Rosa is too strict in regards to how they report crimes and violence to law enforcement. The problem may be with school board policies.
I asked Emerson what is the Santa Rosa policy?
"Based on our code of conduct, there are some instances in which law enforcement is contacted," said Emerson. "When we have an issue, the school pulls up the code to see what we're going to do. If it says notify law enforcement, then they do so."
Emerson said that he wasn't aware of any complaints from parents about the district being so strict on reporting incidents to law enforcement.
——————————
You can download the full SESIR speadsheet: here
or look at the reports for Escambia and Santa Rosa.
Mr. Bergosh is so adamant that we are wrong. Please look at the spreadsheets and review the data yourself.
———————————
In regard to the Santa Rosa Code of Conduct,  the school district has a list of actions to be taken for each SESIR offense. For example on the Distribution/Possession/Under the Influence of Alcohol:
A student who distributes alcohol to another student and the student who receives the alcohol and
or passes the alcohol to another shall be subject to the disciplinary penalties for distribution of
alcohol.

1. Notification of appropriate law enforcement agency.
2. Out-of-school suspension of the student for a period of five (5) to ten (10) days for a
first offense.
3. For any subsequent violation, out-of-school suspension of the student for a period of
ten (10) days and recommendation for a Disciplinary Hearing regarding the removal
of the student from the regular school program for a period up to one (1) calendar
year through alternative placement or expulsion.
4. Notification of parents/guardians of out-of-school suspension and recommendation
for a Disciplinary Hearing in accordance with
procedures for out-of-school suspension and alternative placement or expulsion.
5. Referral for in-school counseling.
6. If the student has an IEP/504 plan, contact the ESE department
To see more Santa Rosa policies, see Code of Conduct, starting on page 34.
I have made every effort to share the data behind our investigation. If I am missing something, please share what it might be. The point is making our schools as safe as possible. The issue is about children, not egos.